I love how one dress be worn in so many different ways.
Check out how I dressed my 3rd look in the black shirtdress. (If you haven't seen my other two looks scroll down to check them out).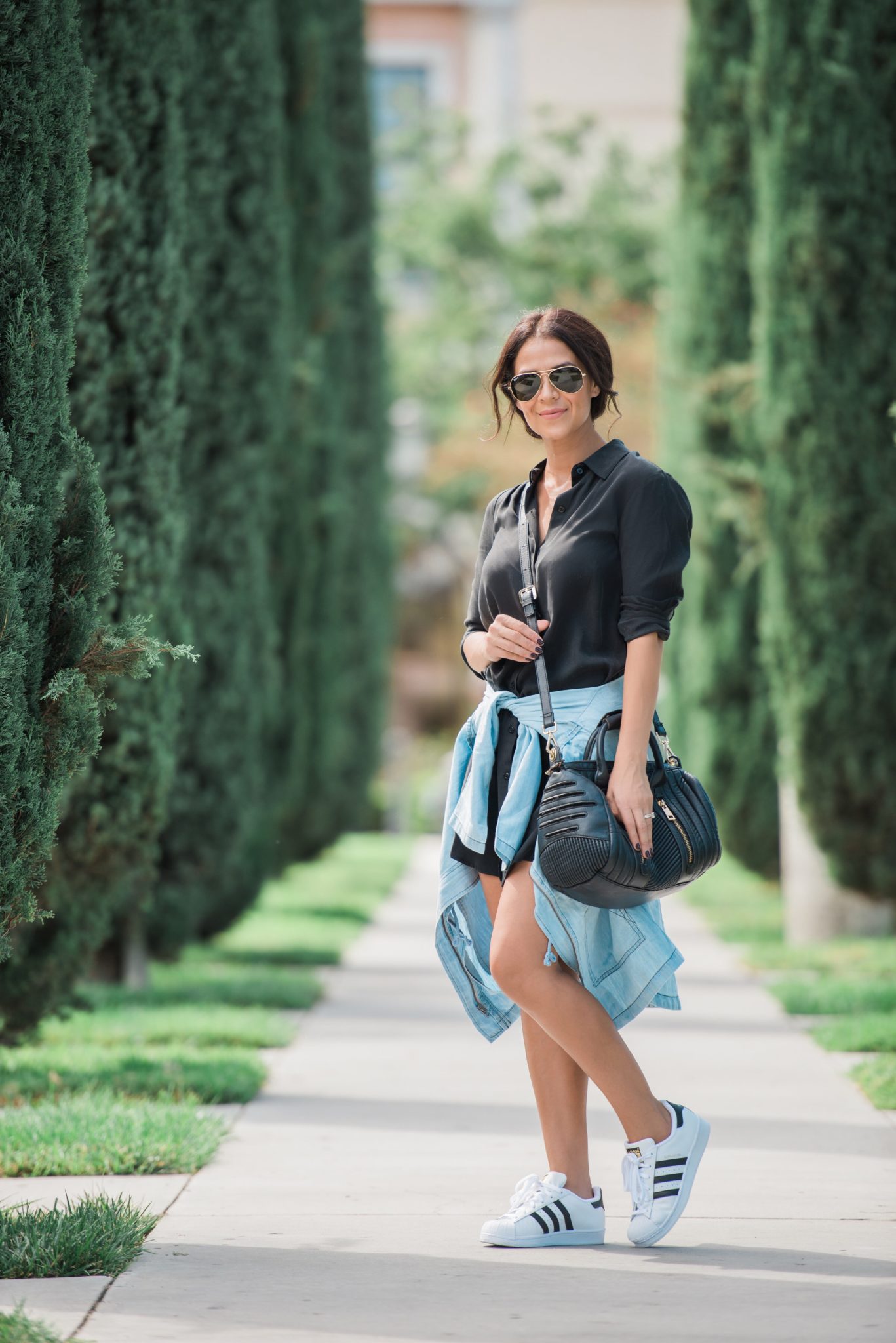 This black Wayf Shirtdress was so fun to style!
As soon as I added my Adidas and tied my BB Dakota denim jacket around my waist, I knew this was my fav look.
I would most likely wear this version out of all three looks because I rarely wear heels.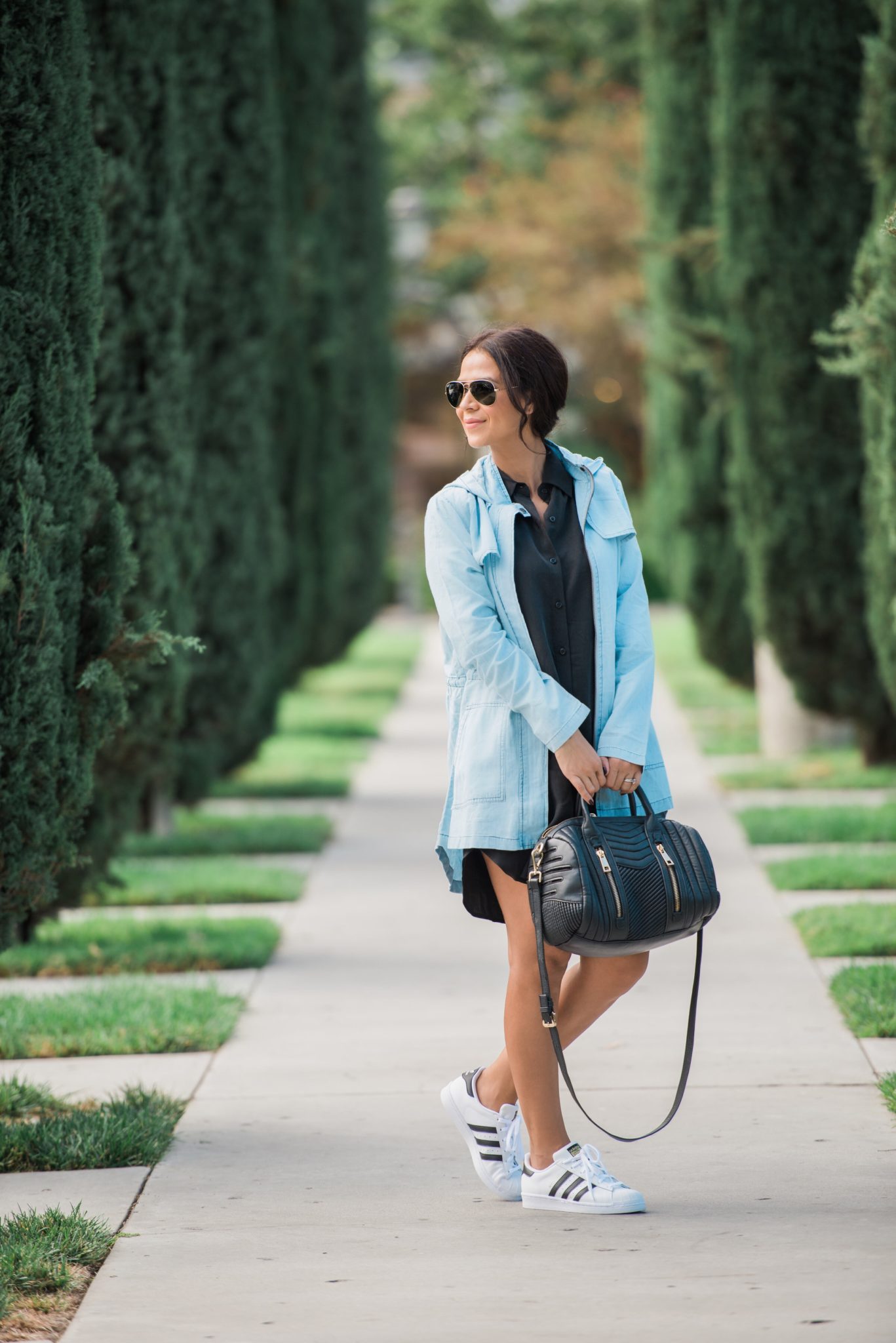 This style has my name written all over.
Dress with tennis shoes! It's feminine and sporty at the same time.
I even added my Zara sporty tote to this look.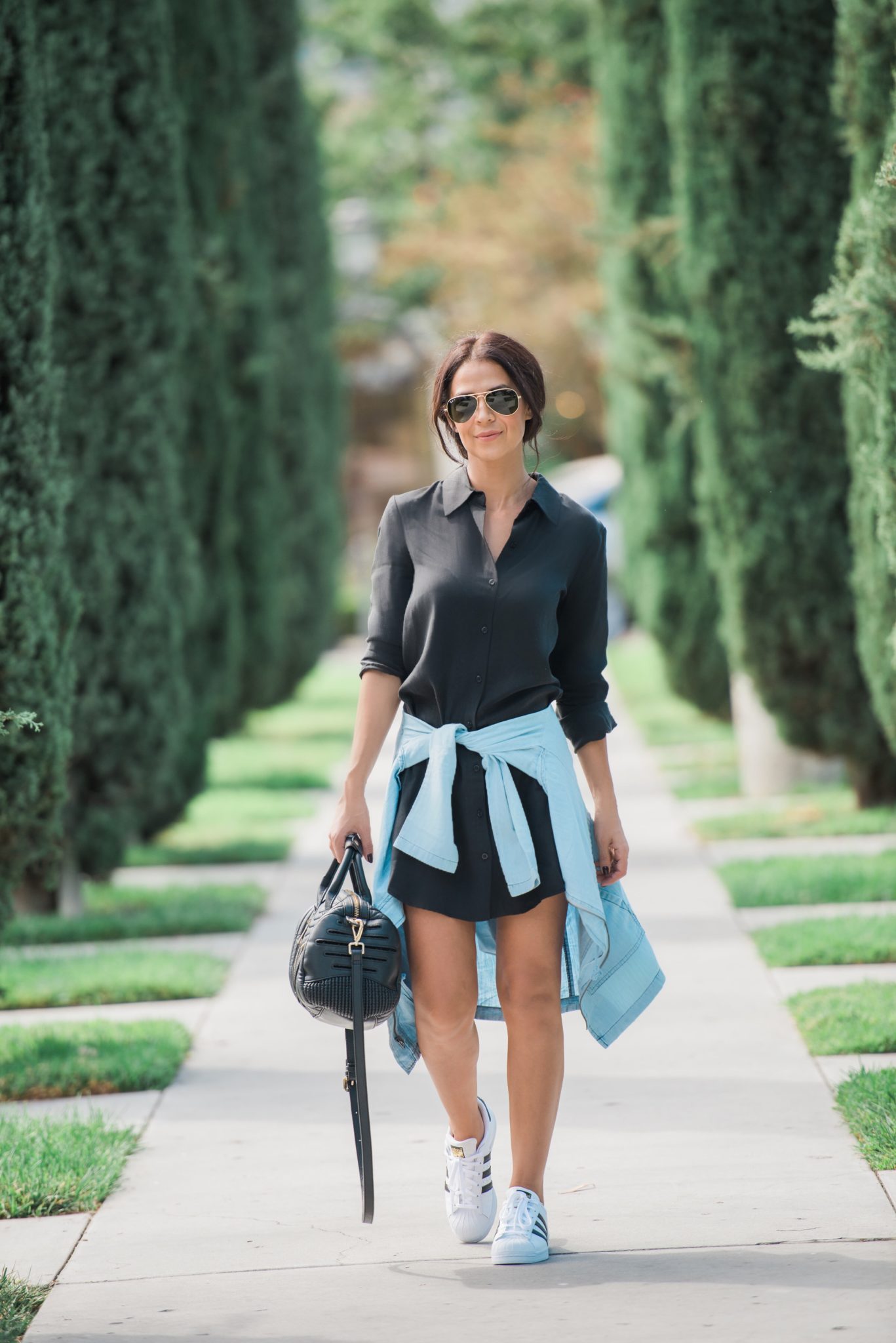 I love my low, pinned, roll-up bun…Thanks to my amazing hair guru on set @maria_aspegren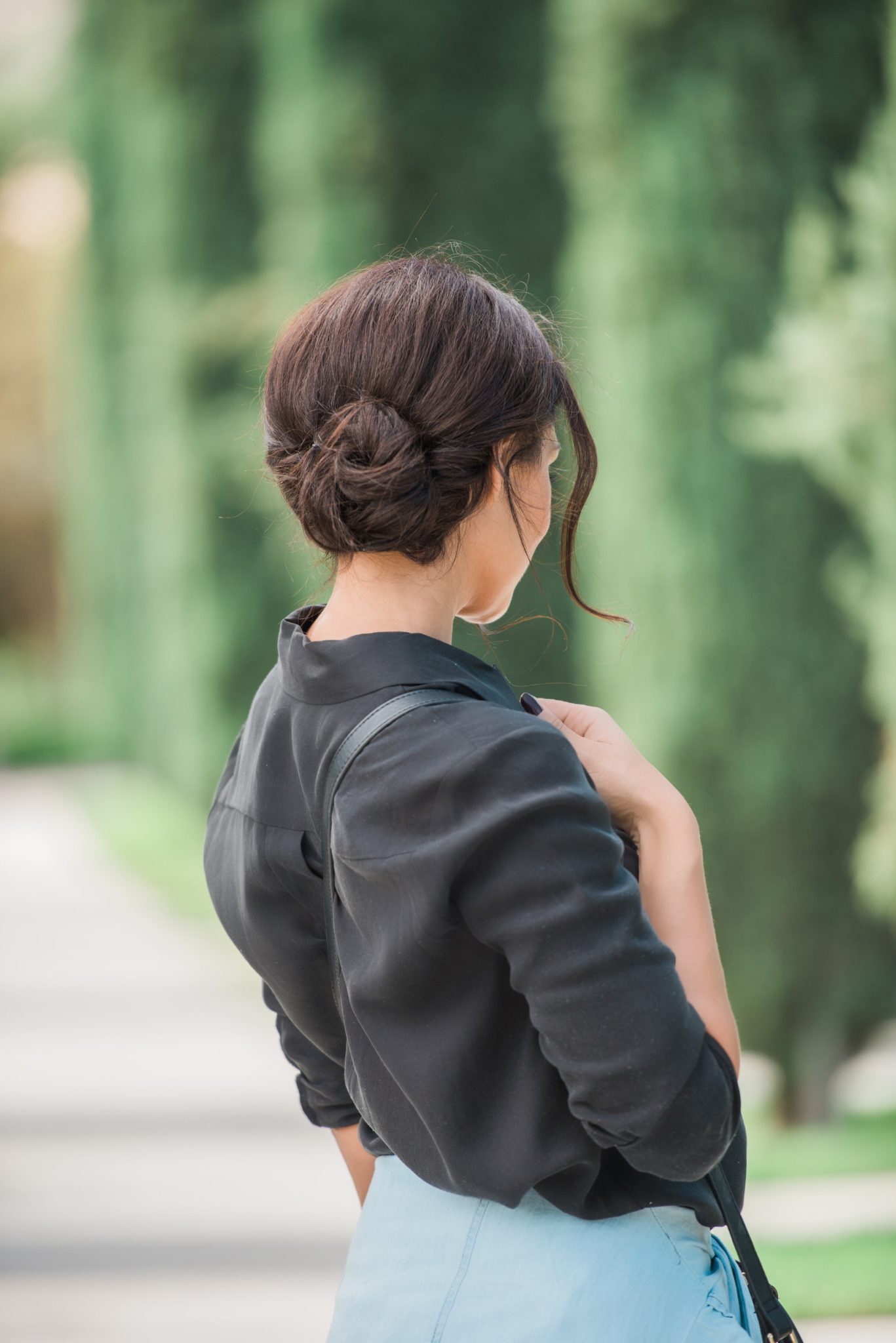 I added the chocker to make it a trendy look.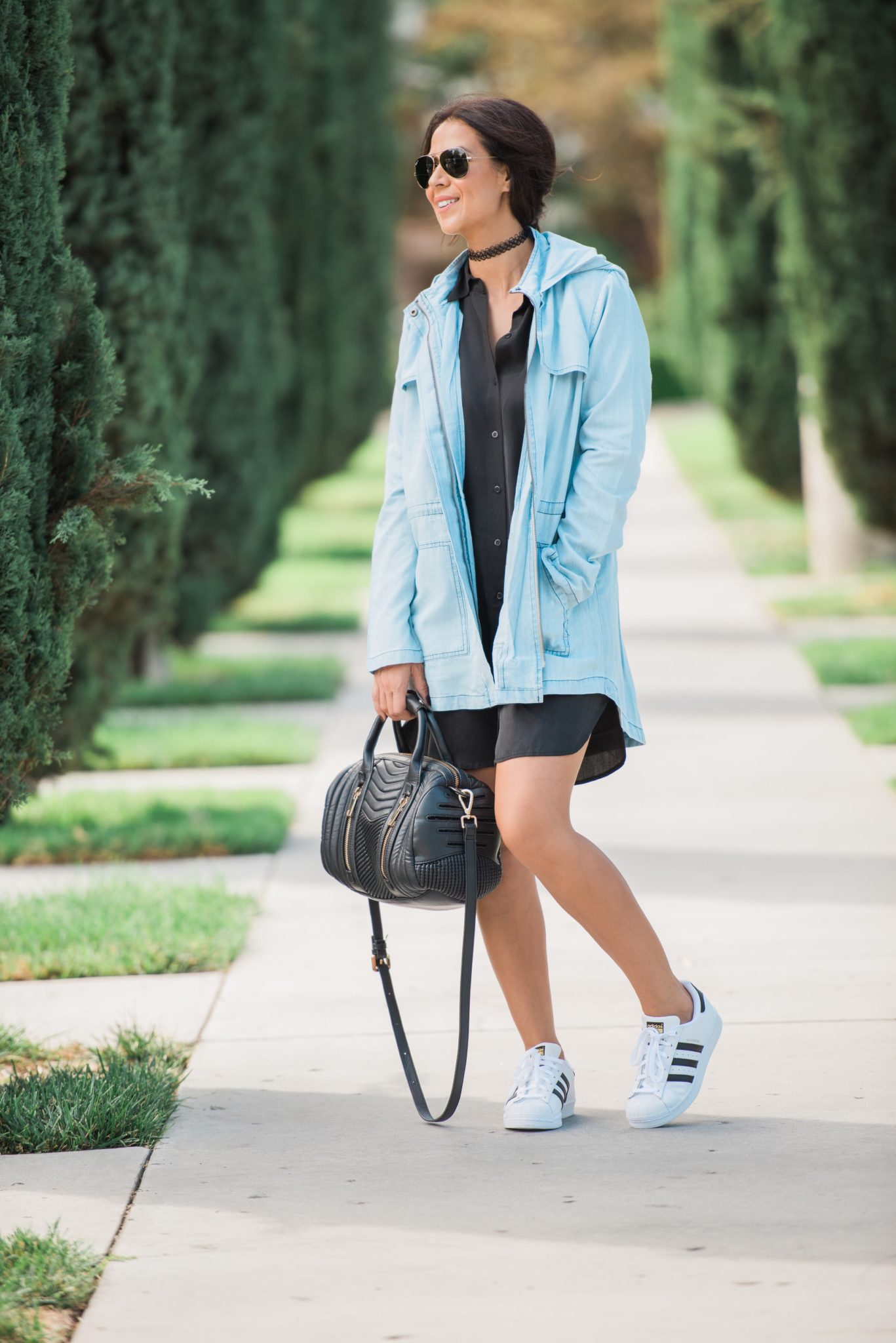 I also think that rolling up the sleeves made it a lil more casual compared to leaving the sleeves down.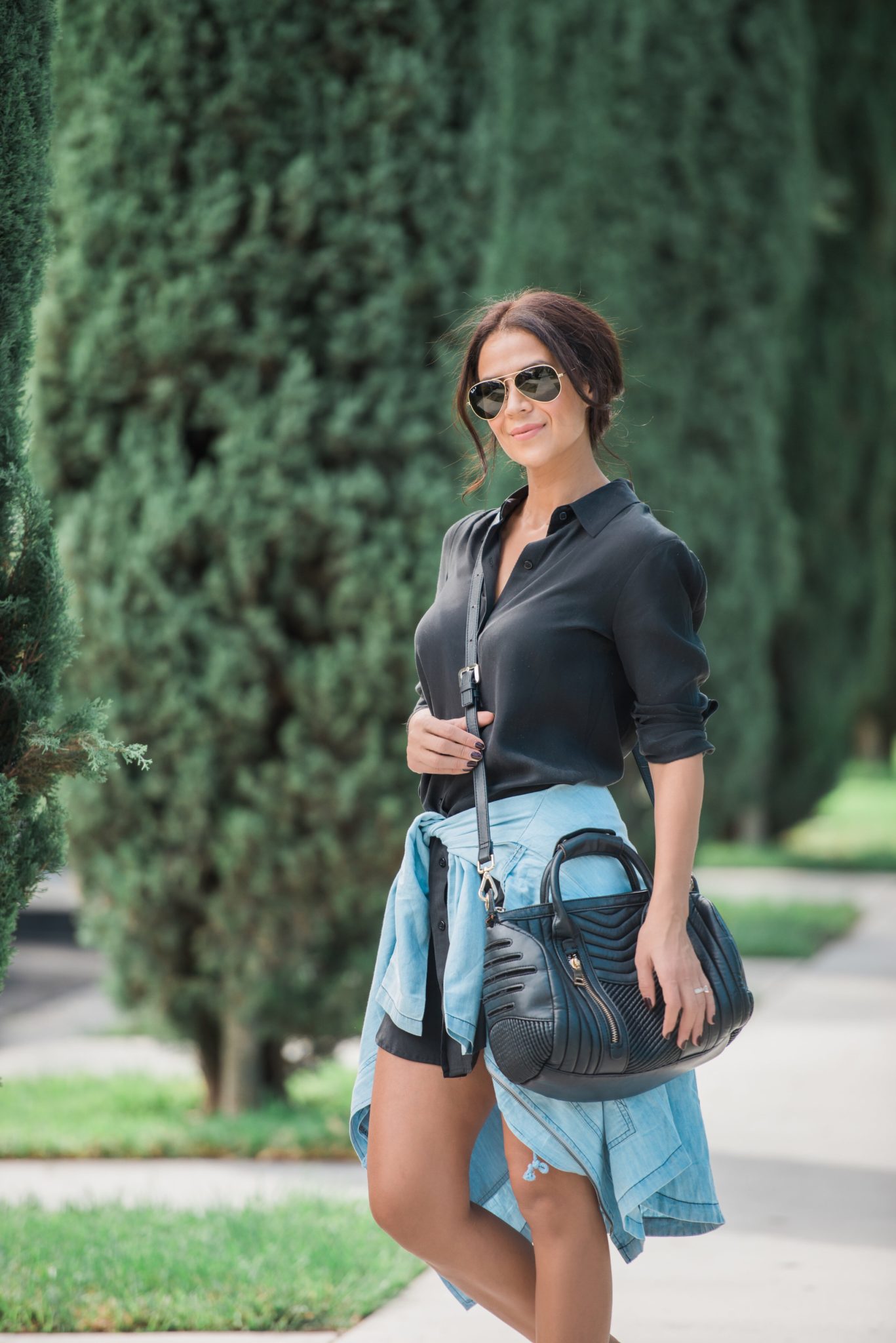 Now I am going to show you how I dressed up the olive shirtdress in a 2nd look.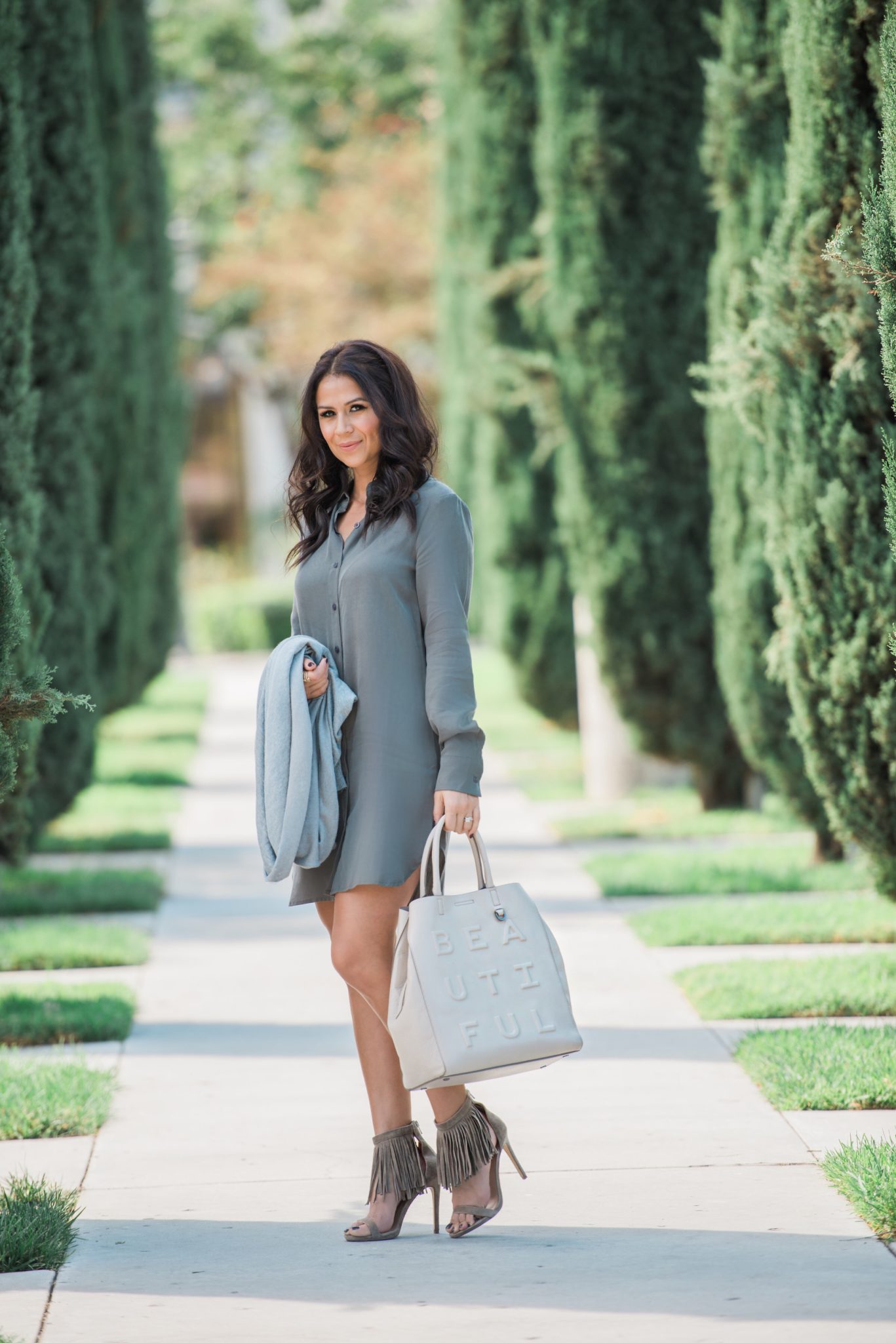 I added a pair of suede fringe heels for a Fall dressy look.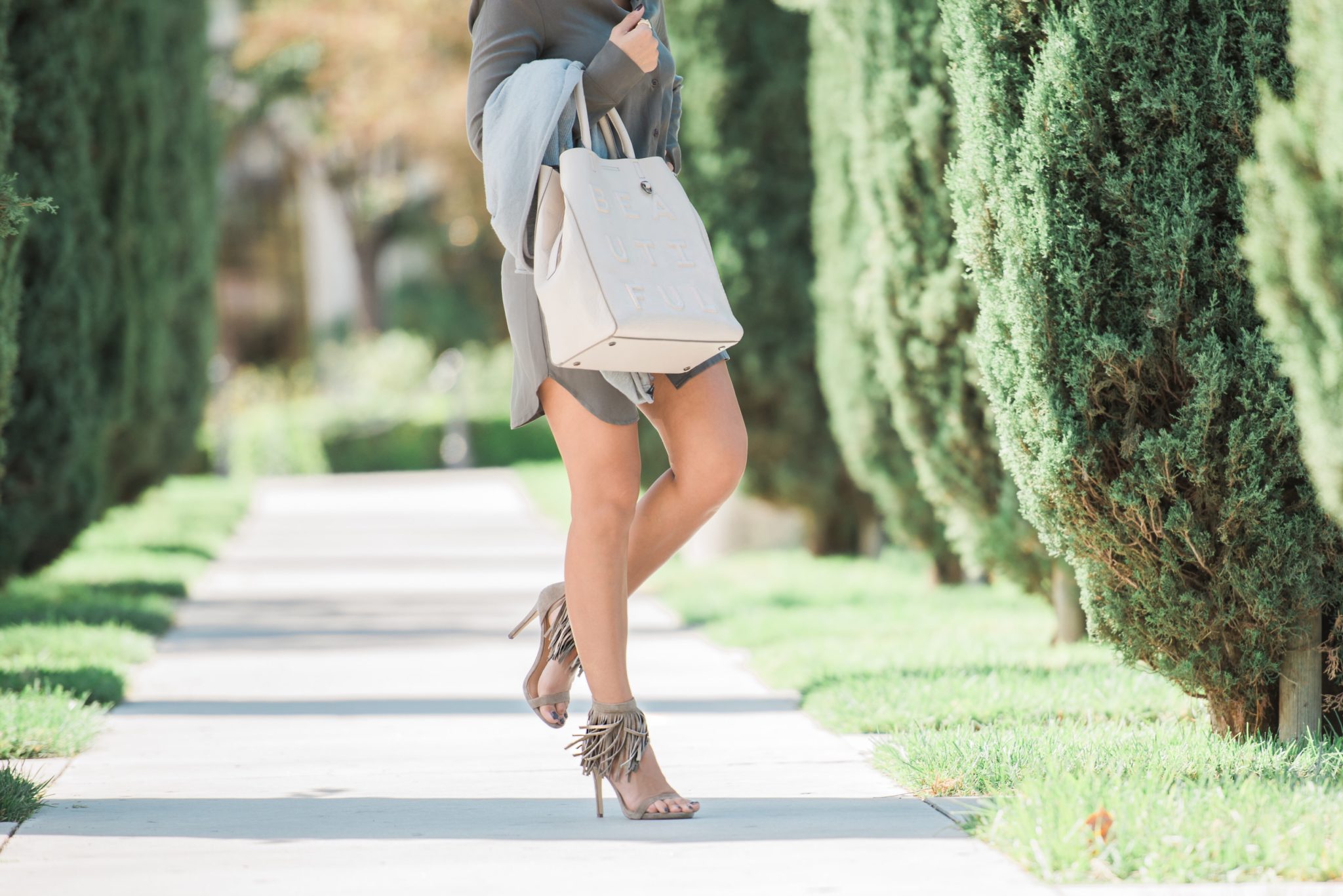 I can think of so many occasions where this outfit would be appropriate to wear.
This outfit can be worn from a business luncheon to a girl's night out!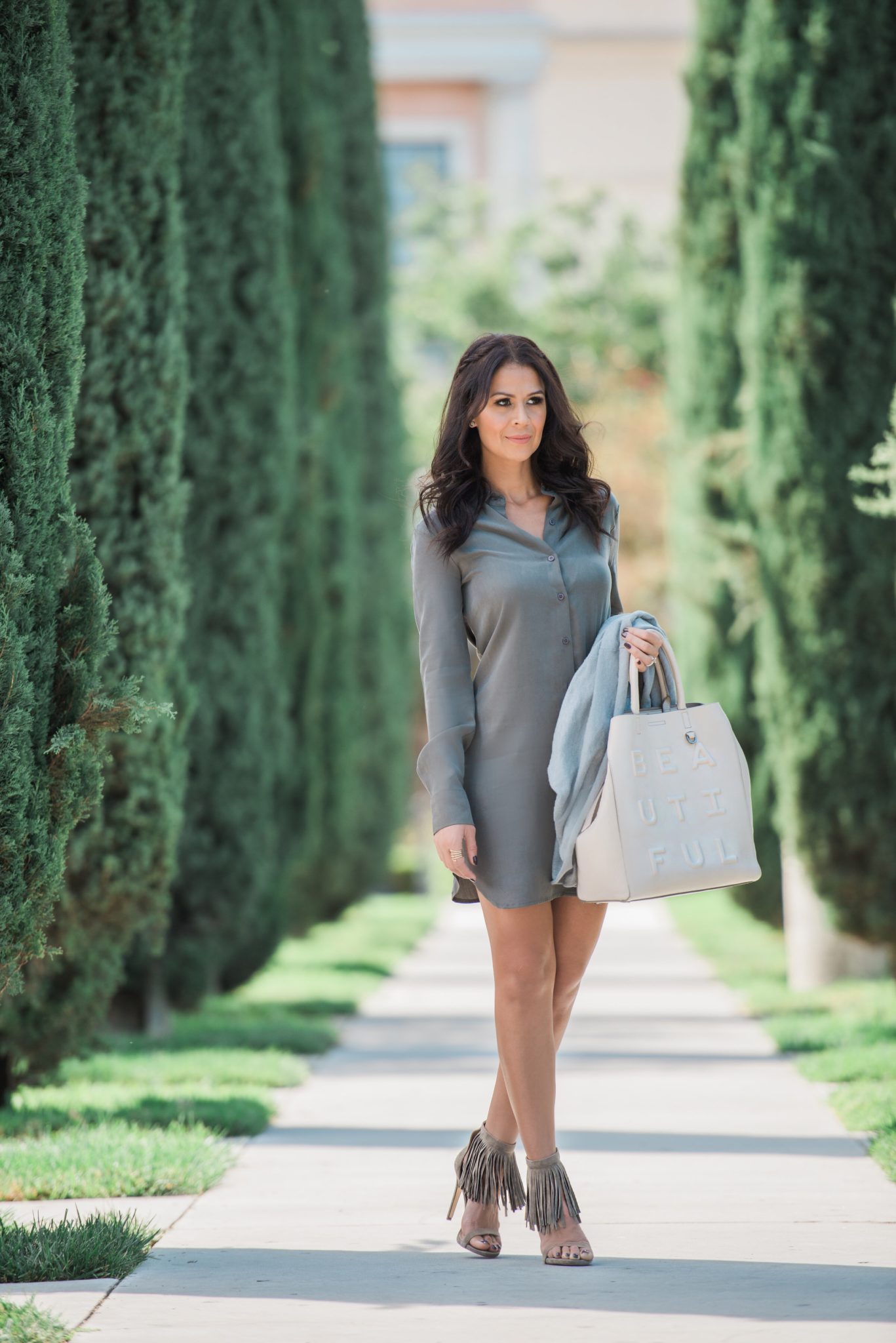 Can't go wrong with a simple beige 'Beautiful' tote by Banana Republic.
It's just the right size for me….not too big at all.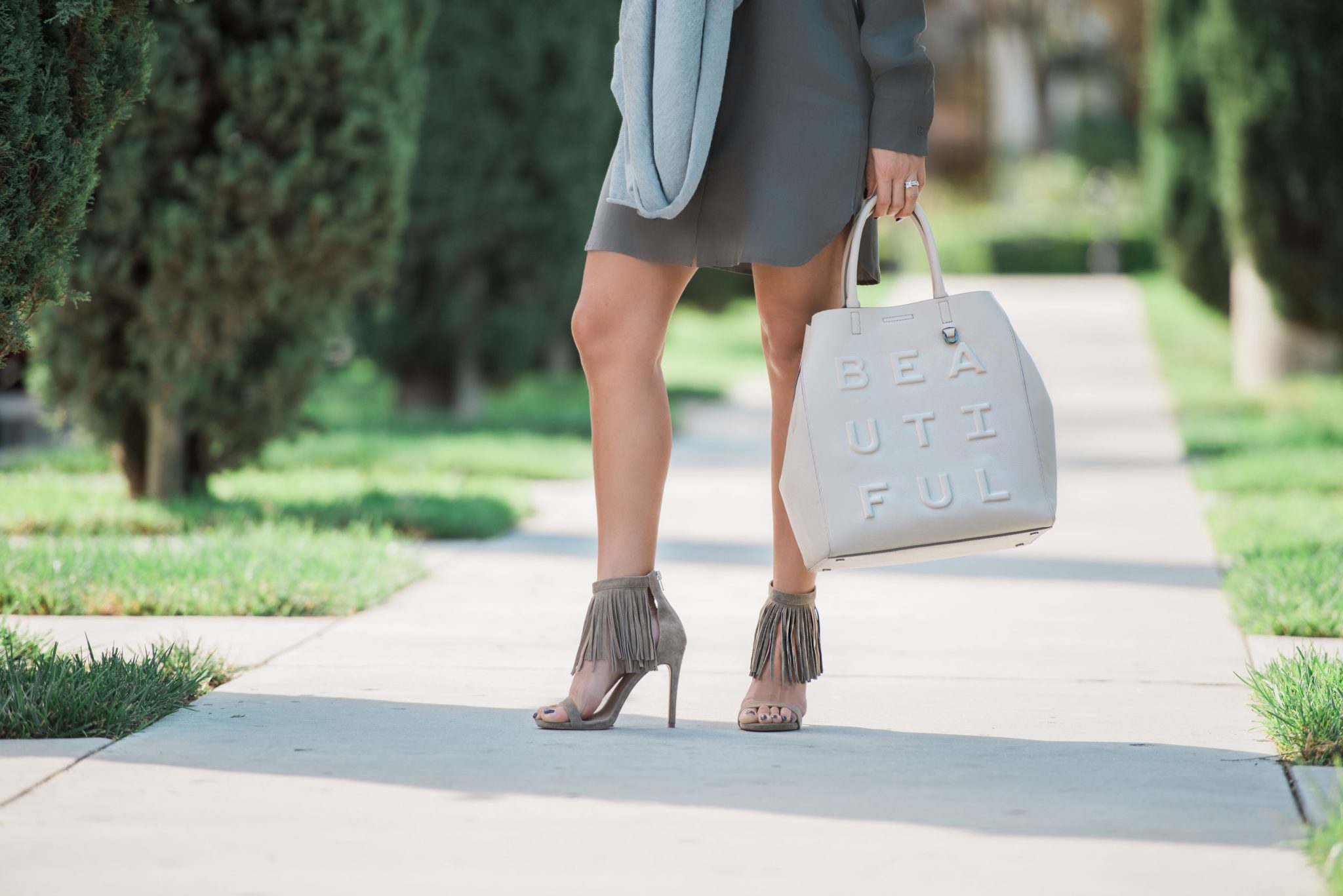 I think grey goes well with neutral tones so I mixed in a simple grey loose cardigan.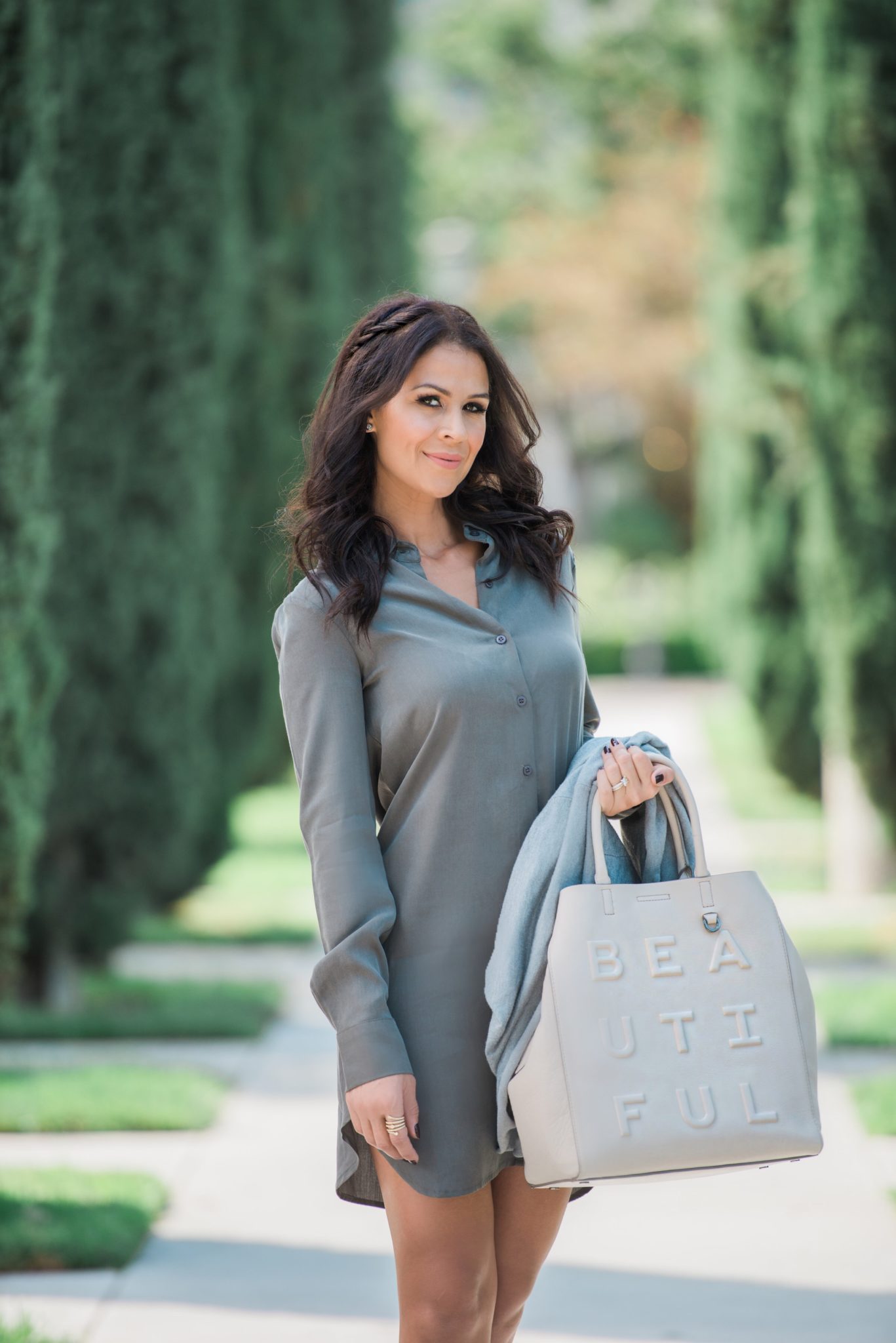 Again, my fav make-up artist and hair guru was on set:   @maria_aspegren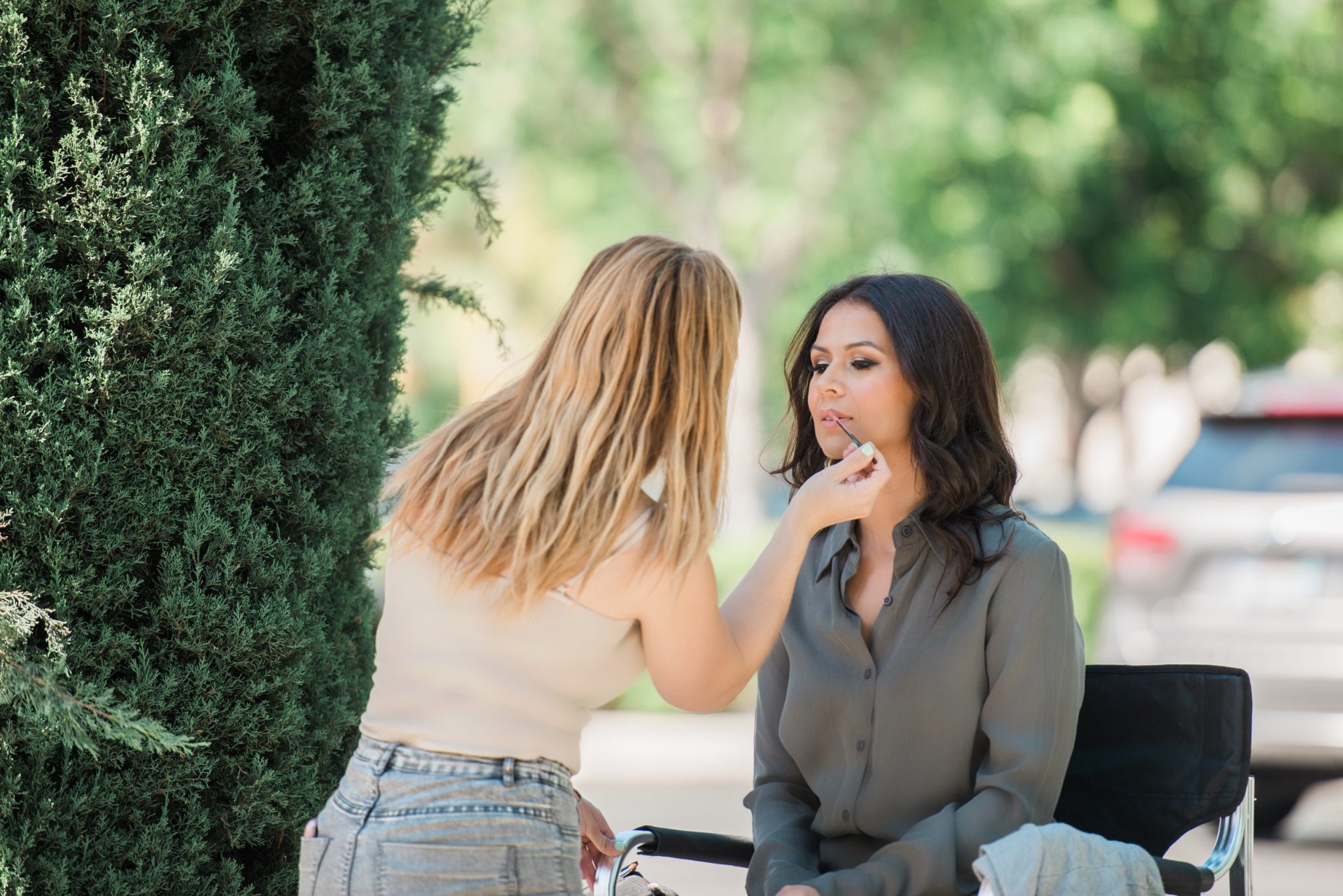 She added a playful fishtail braid to my loose curls. I love braids!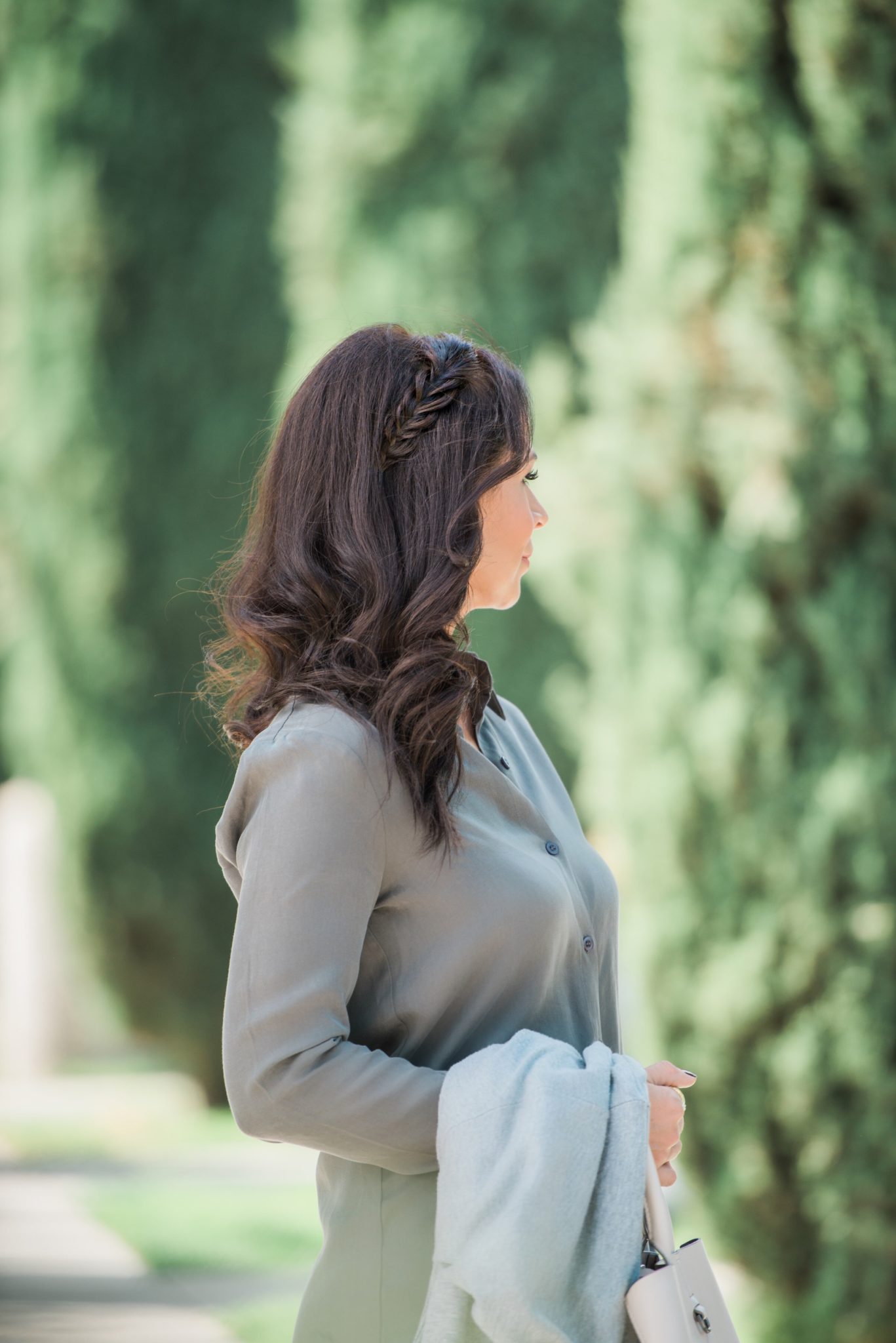 This is how I dressed up the blue shirtdress for my 1st look.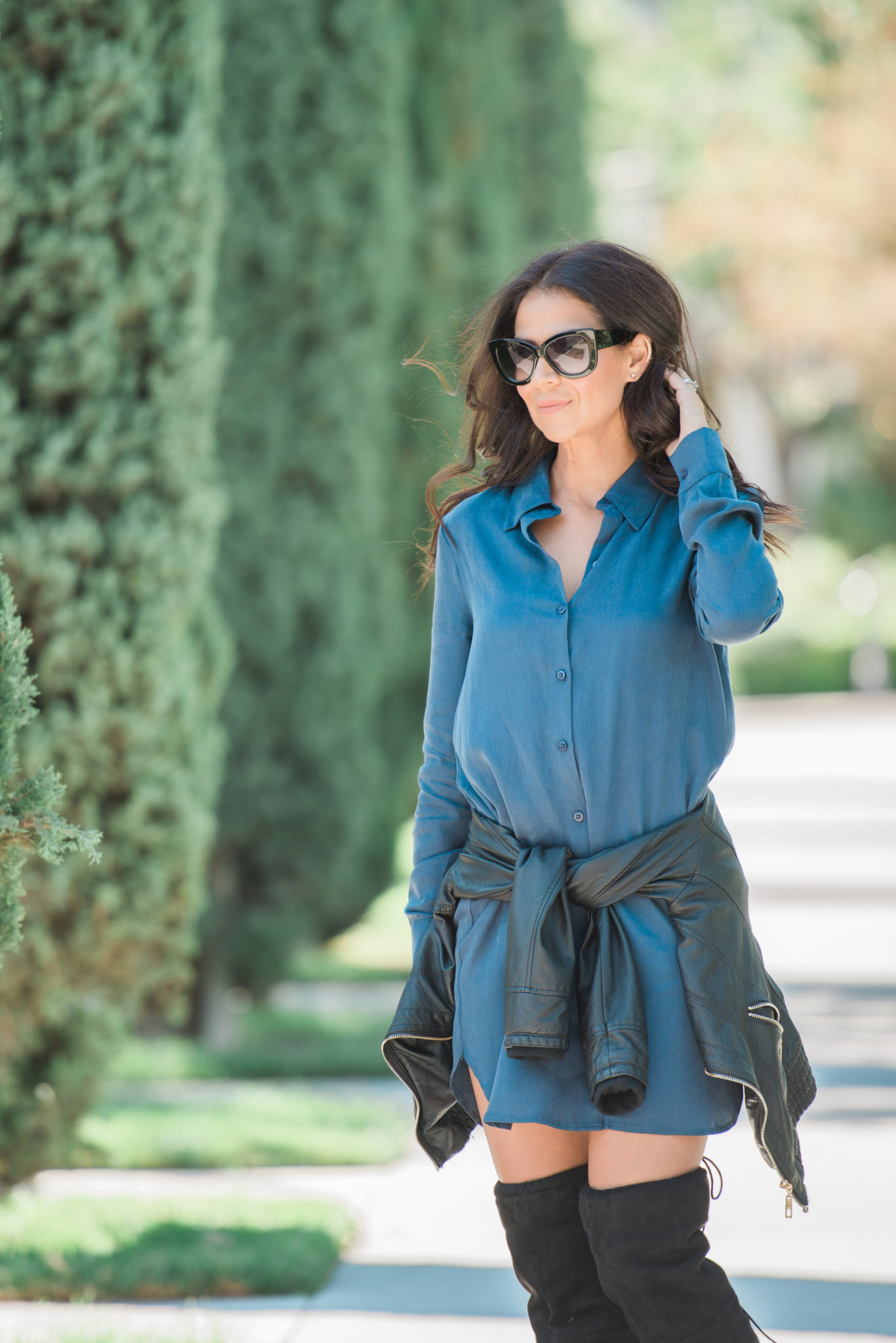 I dressed it up for a date night with my hubby.
I added some suede black over-the-knee boots and a cropped black leather jacket for Fall.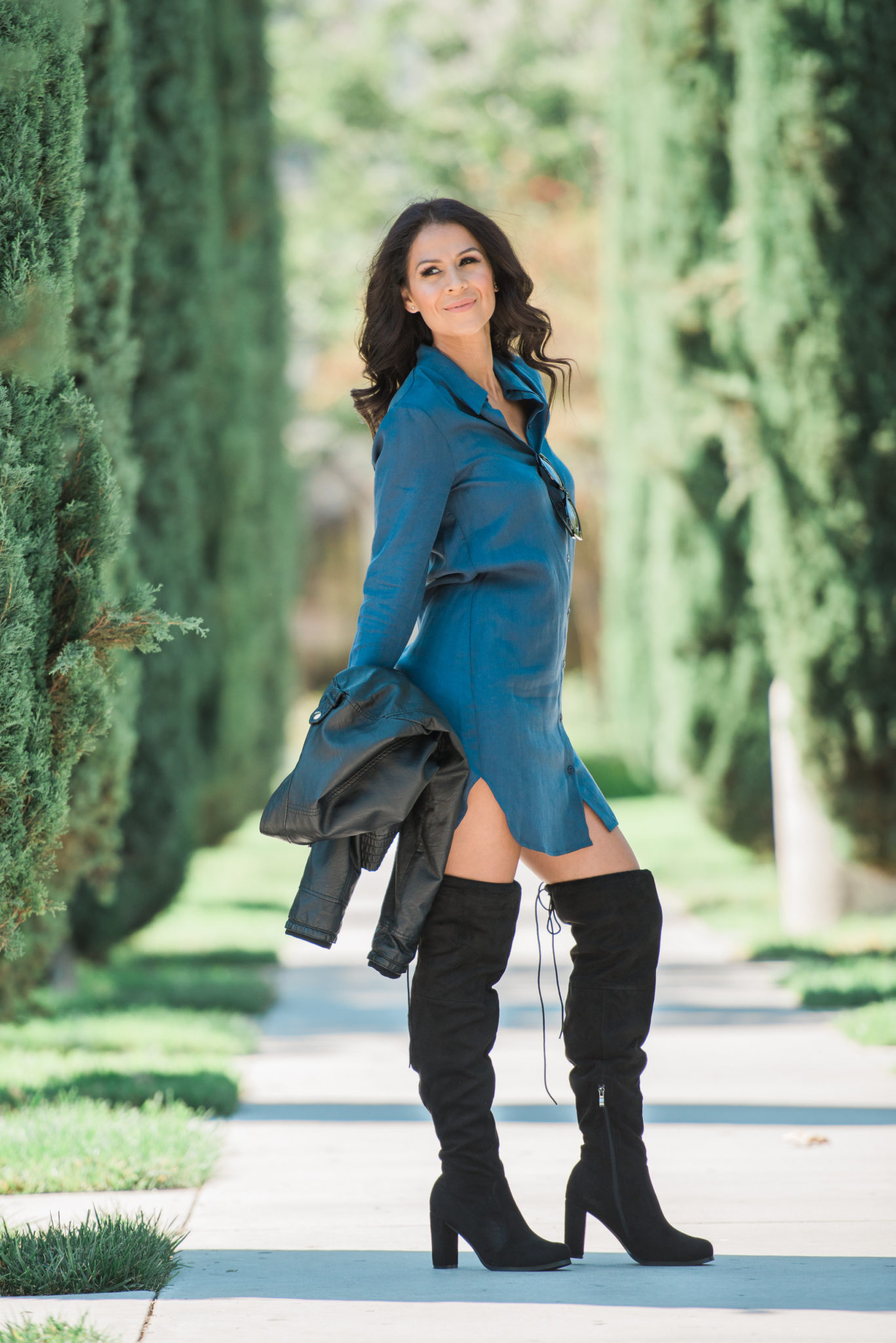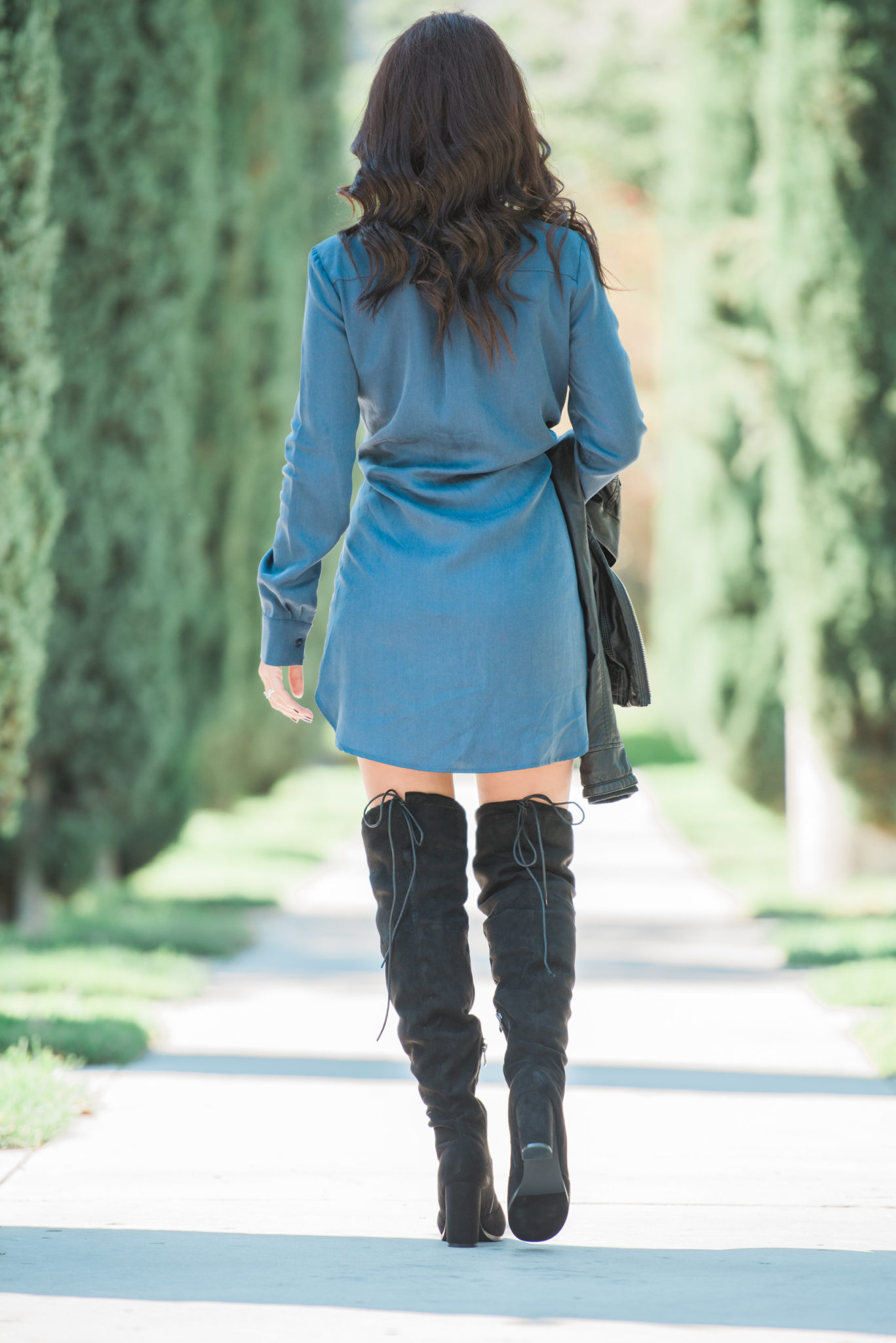 I'm 5'4 and I can't begin to tell how perfect the length of this shirtdress is for me!
It's not too short where I'm worried my butt will show.
It's not too long where is looks like a sack of potatoes on me.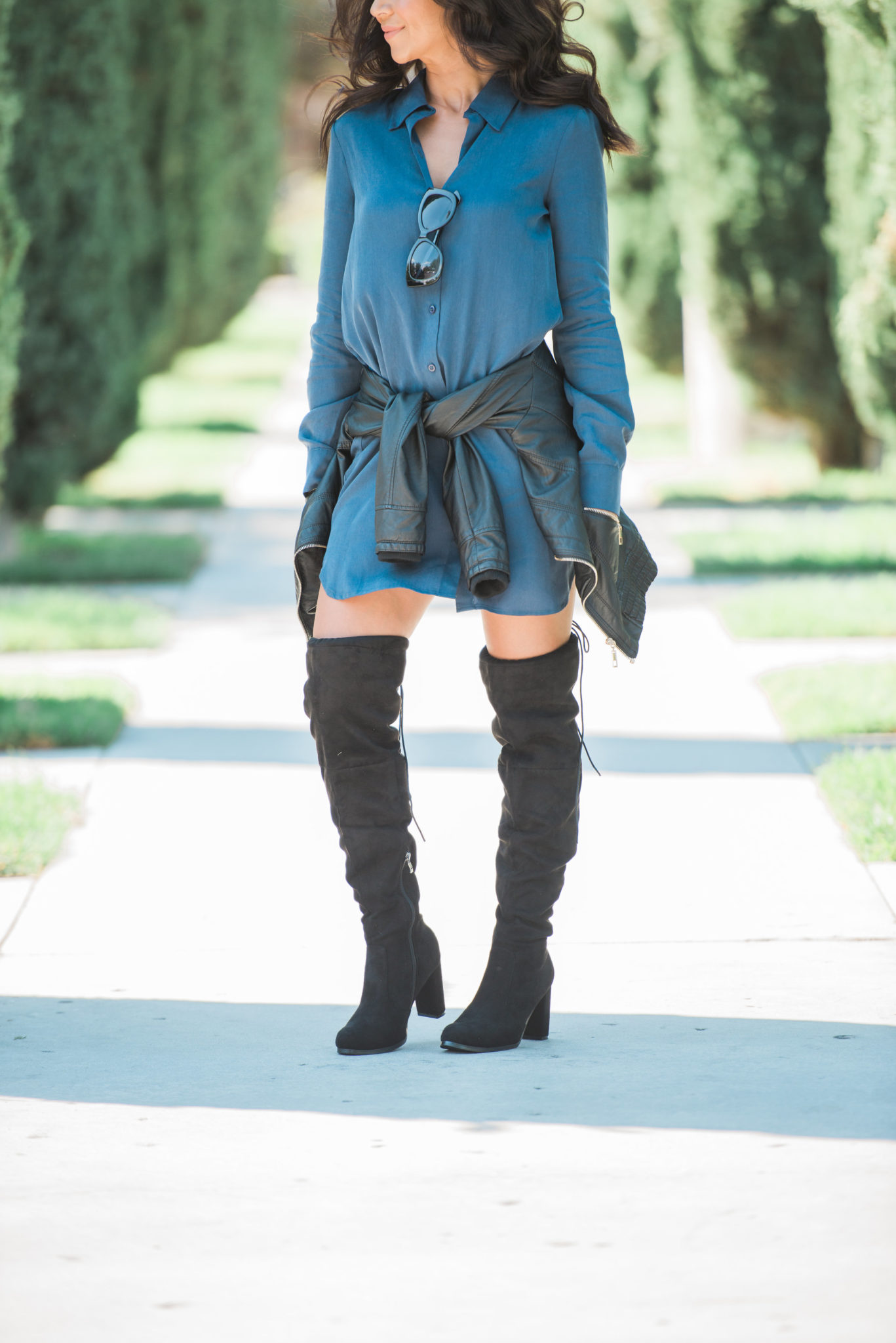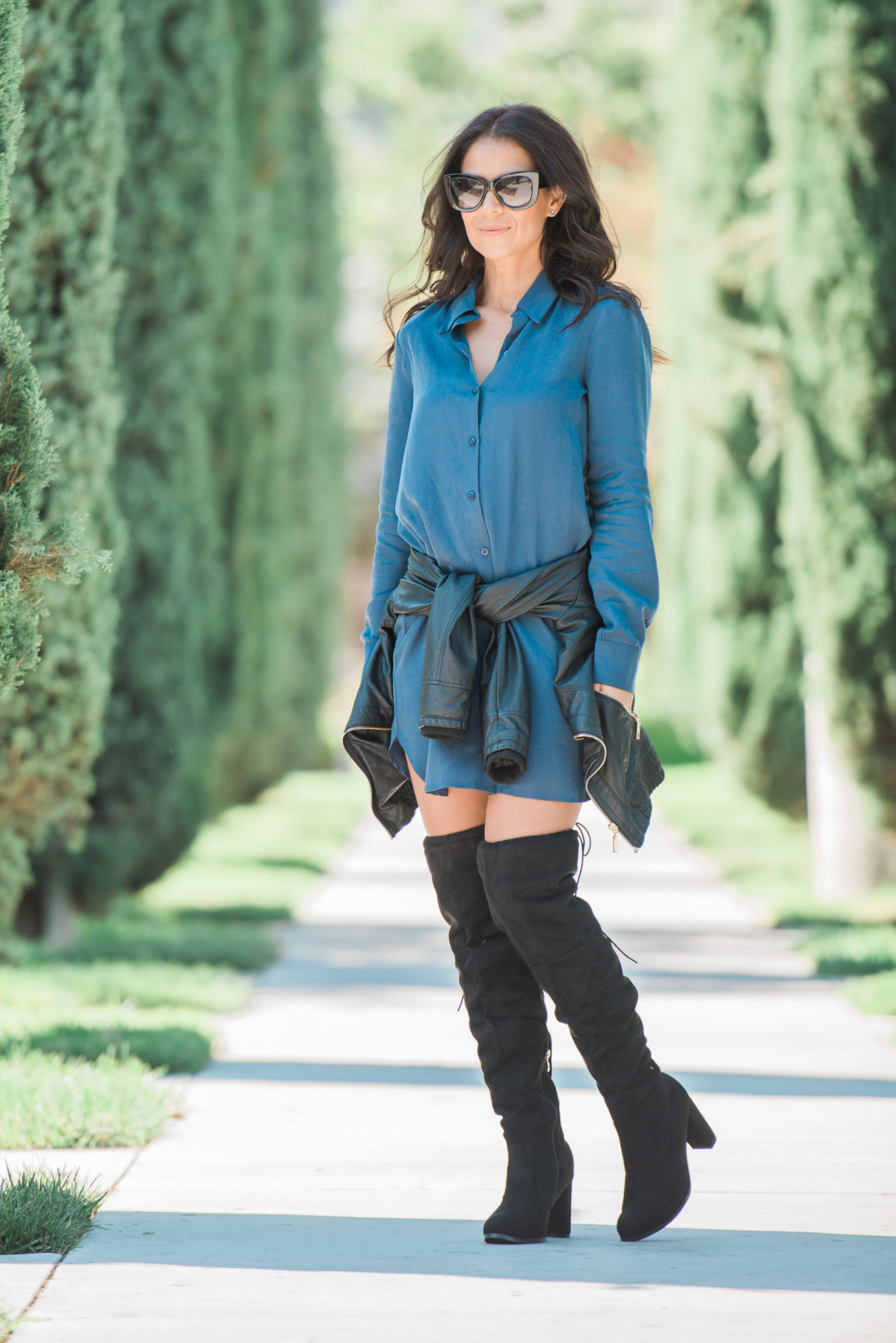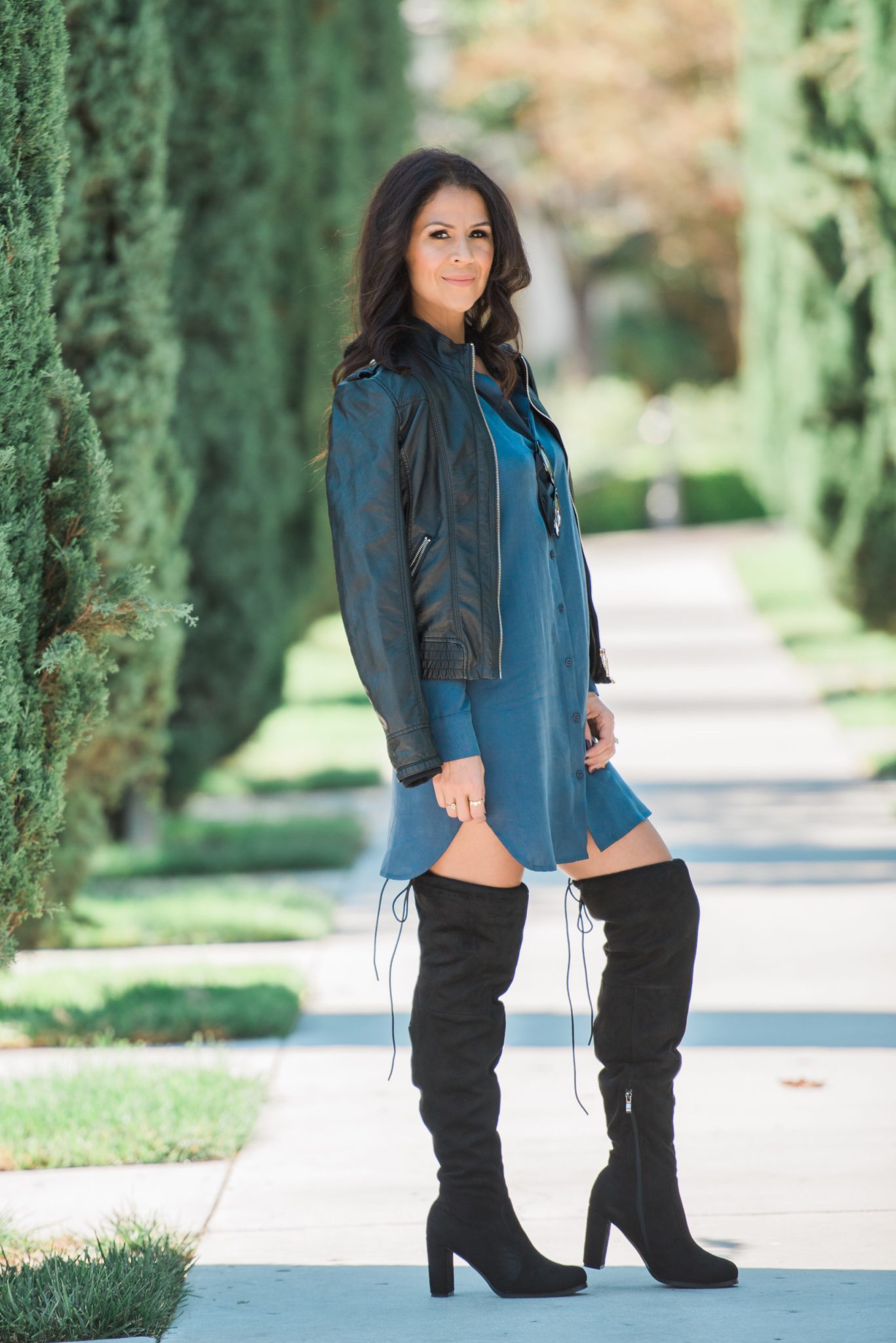 It's one of those classic pieces that you can keep forever.
Now incase you don't have a shirtdress like this, you can still wear this style.
For example, if you have a blue dress in your closet, add some black boots (any height is fine) and then throw on a black jacket (doesn't have to be leather).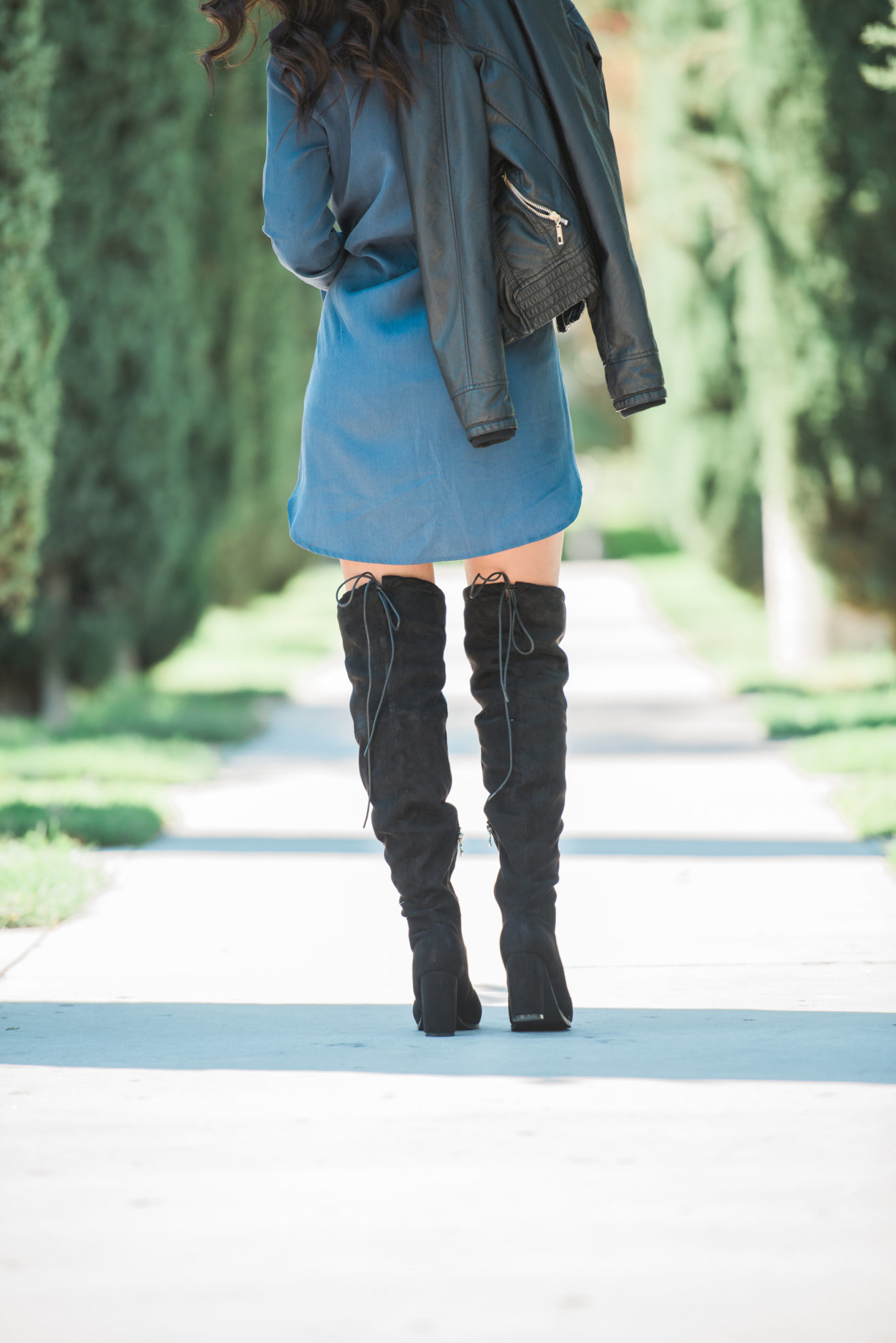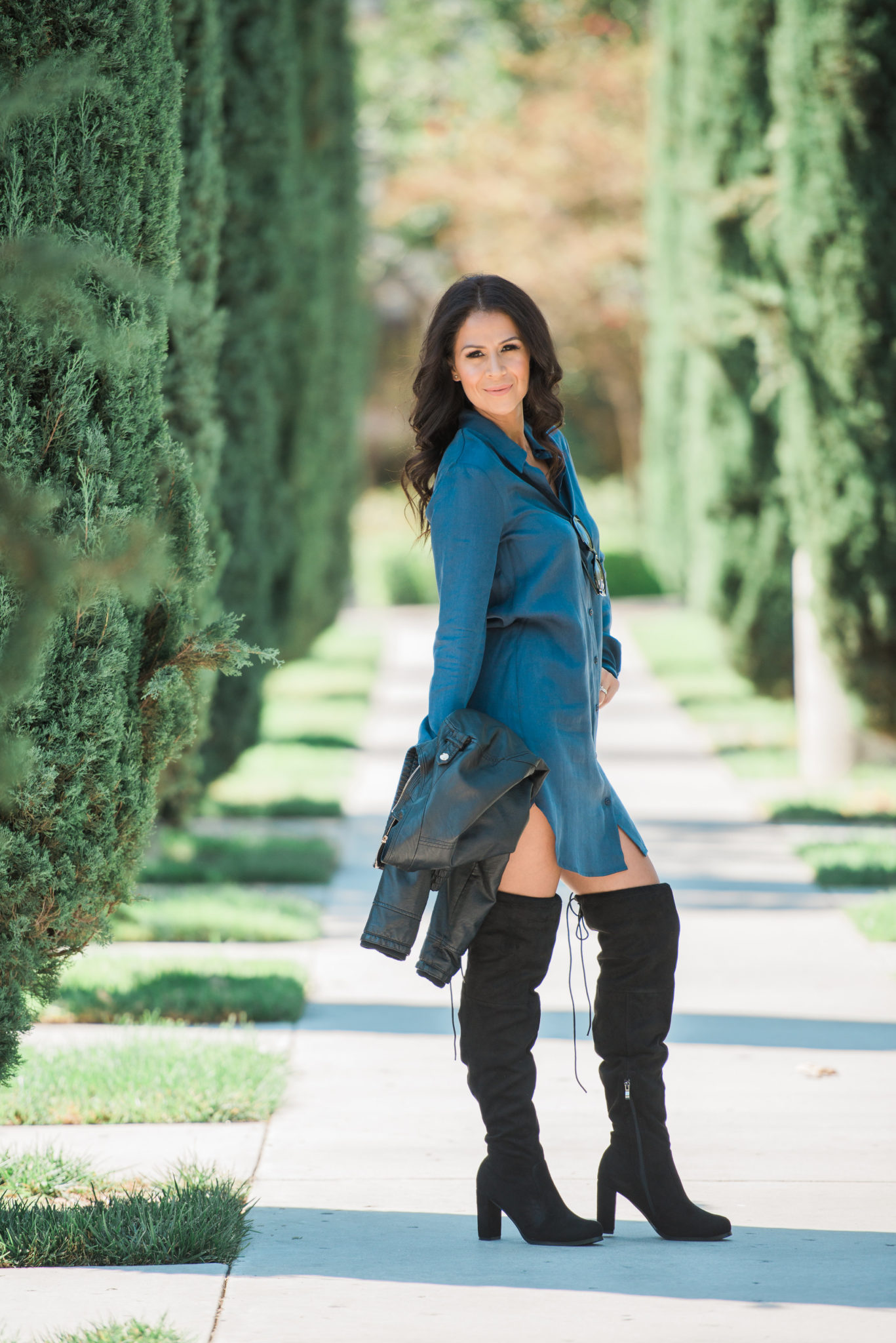 What I love most about this dress is that you can wear it all year round. Yeay! Such a great buy!
I'm so happy I ended up buying all three different colors: black, olive and blue! I'm so obsessed with all three!
How would you style this shirtdress? Post your comments below.
Don't forget to subscribe to my email list so you can stay connected with me!
Mom on Duty…
Rocio
Nordstrom Wayf Button Front Shirtdress in olive
Revolve Wayf Shirtdress in white
Nordstrom Rack Wayf Button Front Shirtdress in black
Forever 21 Faux Leather Moto Jacket in black
Zara Cowl Neck Cardigan in light grey
Catherine Malandrino Jorja Over-The-Knee Boot in black suede
---
Location: The Commons, Calabasas
Photographer: Leica Palma
IG: @leica_loves
Facebook: Leica Palma Photography
---