The poncho is back ladies! Ok I don't think it ever left.
I'm always looking for unique ways to wear an article of clothing. In this case, a poncho.
I dressed up a black & white jumpsuit that I had in my closet by throwing on a poncho over it and…..it worked!
Ponchos can be tough to style because all that fabric can overwhelm your frame and look unflattering. I'm 5'4 and don't usually wear heels so it's challenging wearing a poncho that doesn't make me look bigger than I am.
I've mainly seen ponchos with jeans or leggings with tall boots for the Fall but I was inspired by these celebs. I'm obsessed with Olivia Palermo. As much as I adore her looks, many of them are not practical for me, especially as a mom. I wish I could get THAT dressed up but the truth is I'm not going to unless it's a VERY, VERY, unique & special occasion.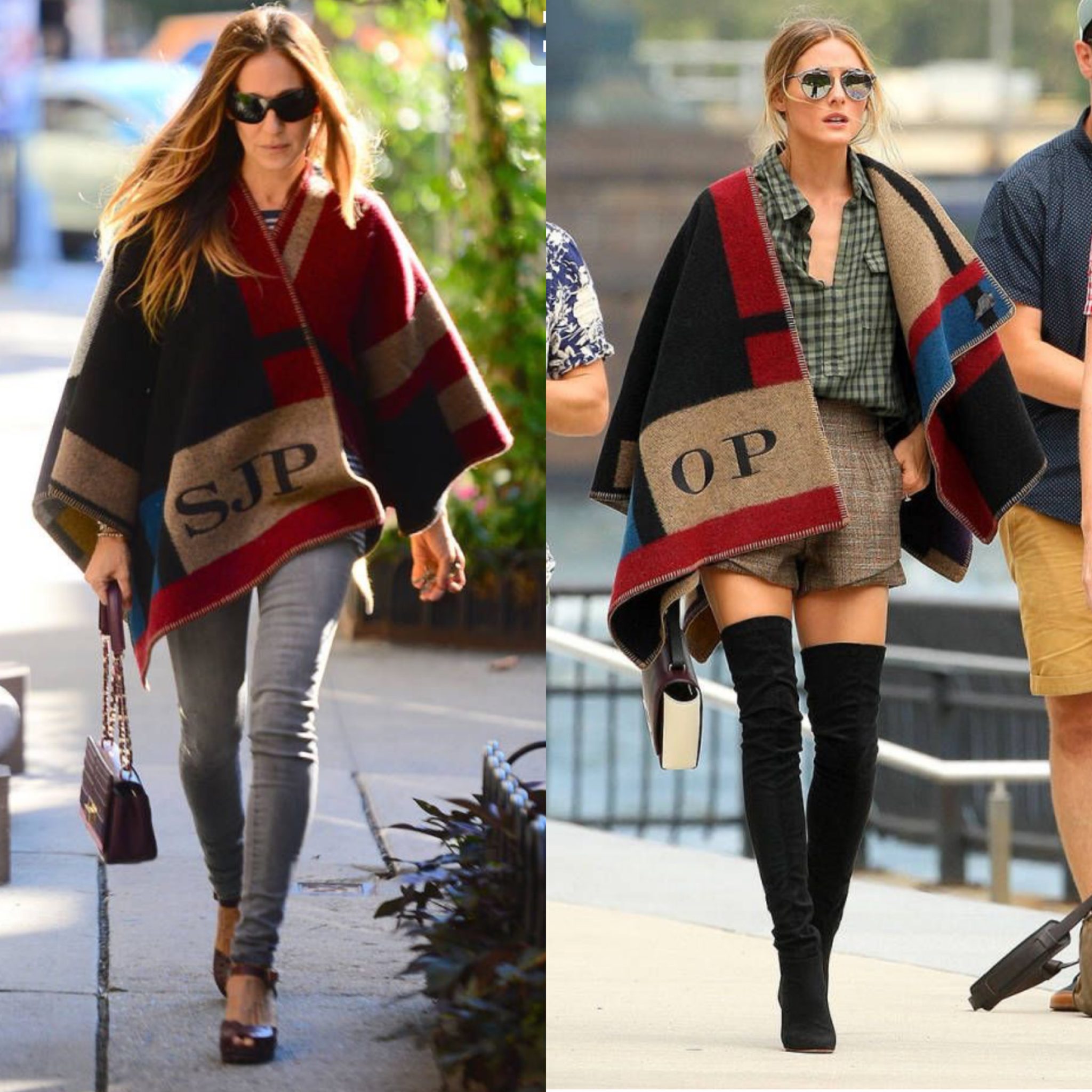 I love the colors on this Burberry Multicolor Colour Block Check Blanket Poncho but it goes for a steep price of $1,395! Ouch!
But guess what ladies?? I bought a poncho, that I love just as much, for only 25 bucks instead! Yeay for me!!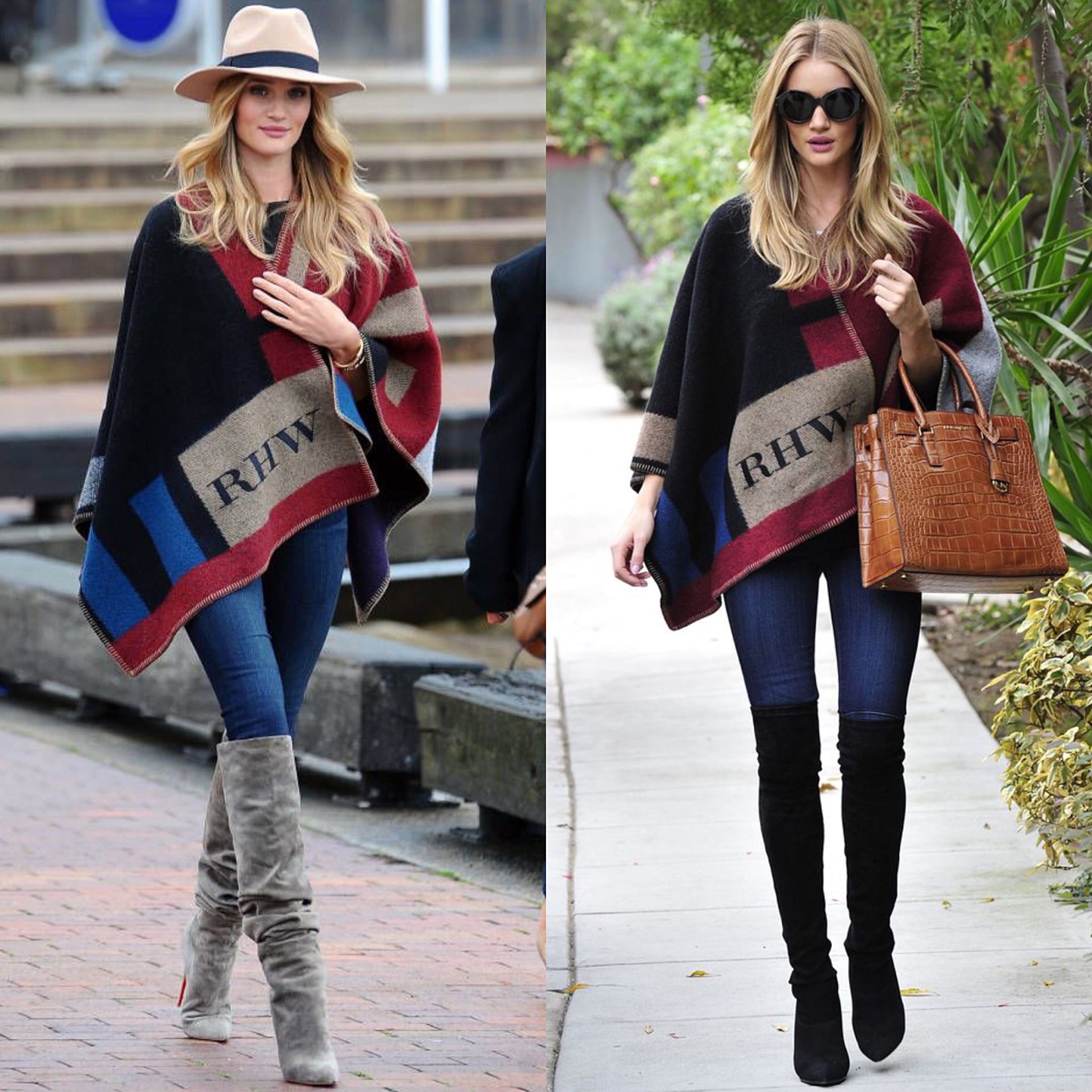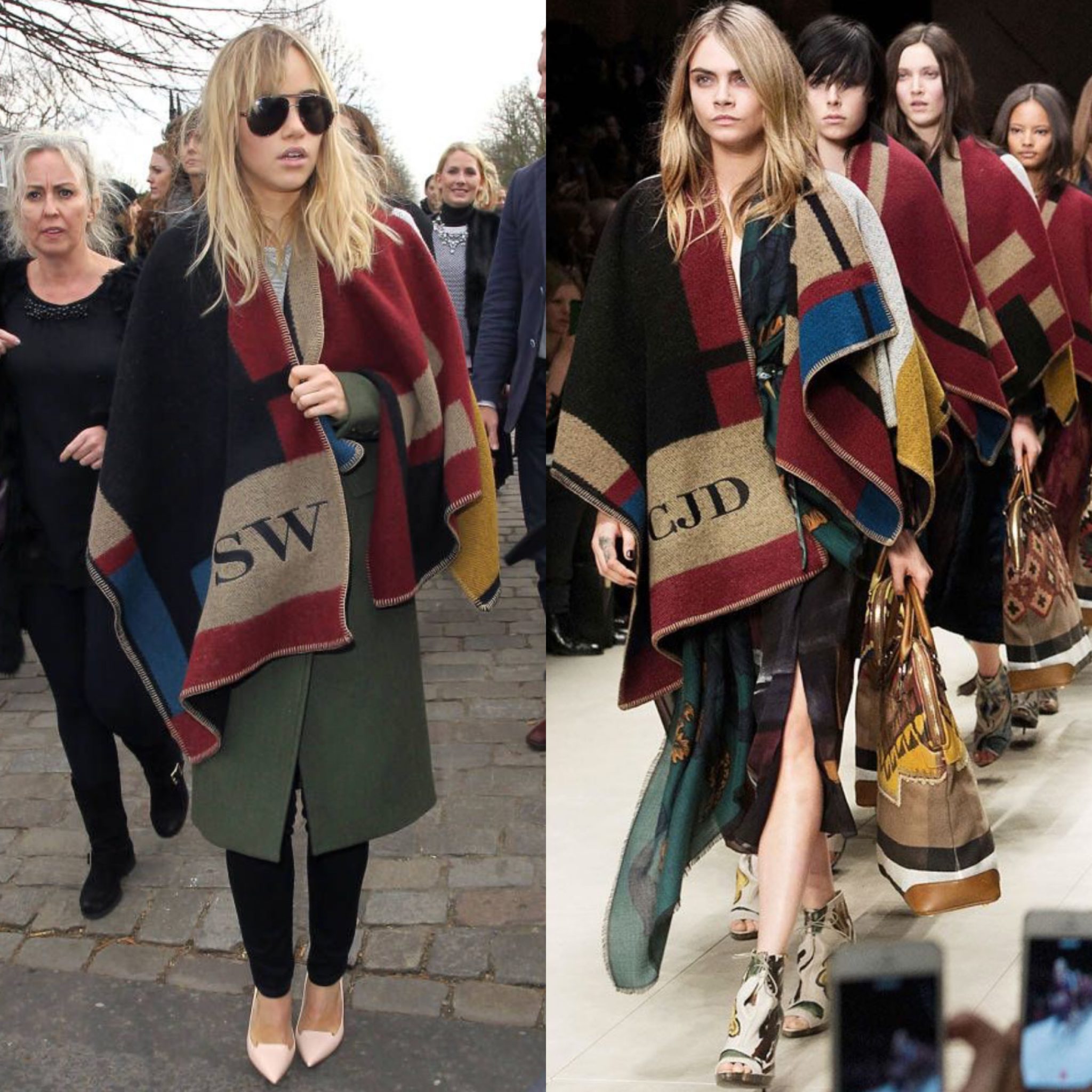 I found this amazing poncho at Old Navy! Yes ladies at Old Navy for $25! I'm so INLOVE with it because it wraps around me perfectly! I was looking through my closet trying to figure out what to wear with it and I came across a black & white jumpsuit.
I haven't worn this jumpsuit because I was saving it for a special occasion. I thinks it's too fancy for a night out with the family. Yet, once I threw the poncho over my jumpsuit, it became a quick, easy and cute outfit for me to wear. Something I can put together quickly when going out on the weekend with the fam.
Plus the outfit is comfortable.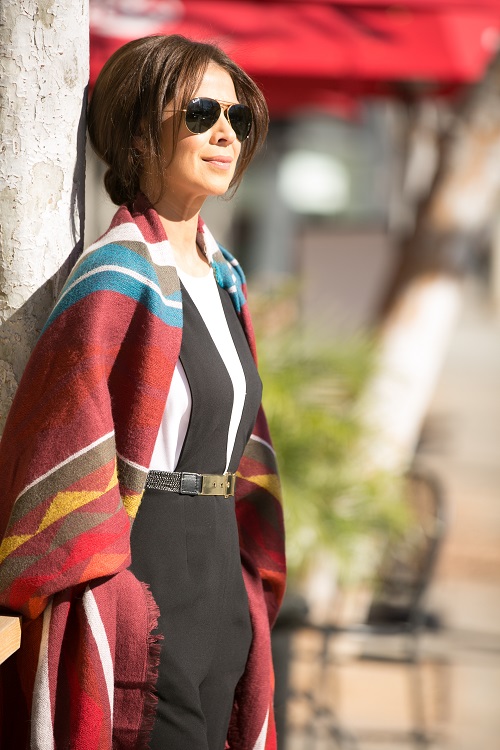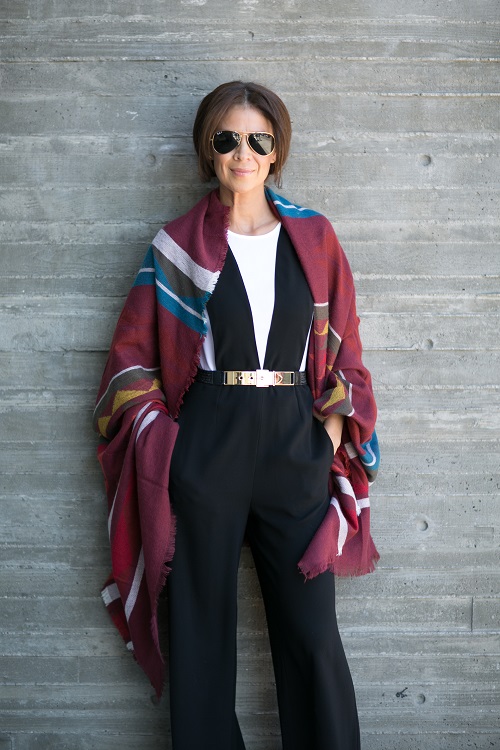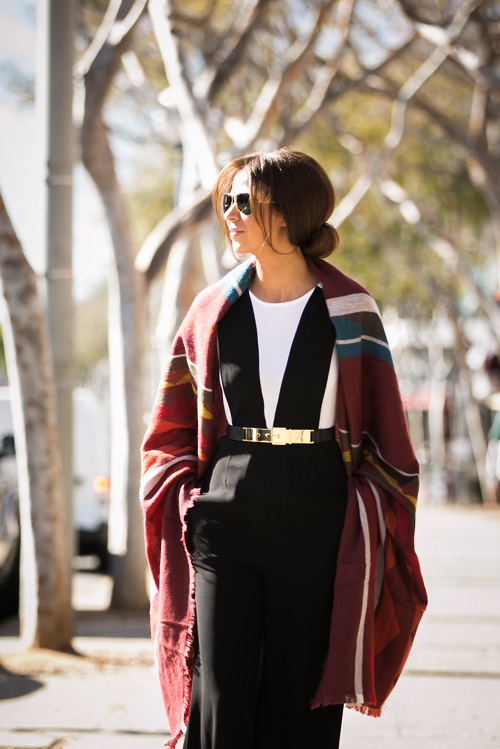 If my family is going out to dinner somewhere (say to celebrate a birthday) I'm definitely not going to wear my usual mommy gear (which is my workout clothes). I'll dress up a bit. As a mom, I need to think of something mindless and quick to throw on. So I found a way to dress up a poncho.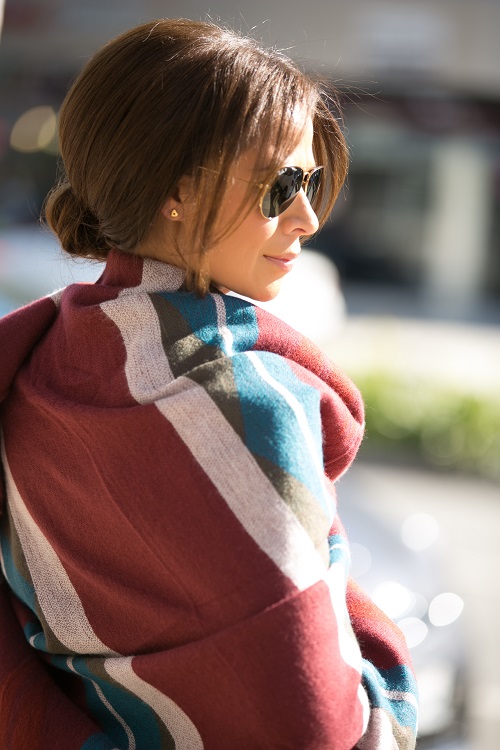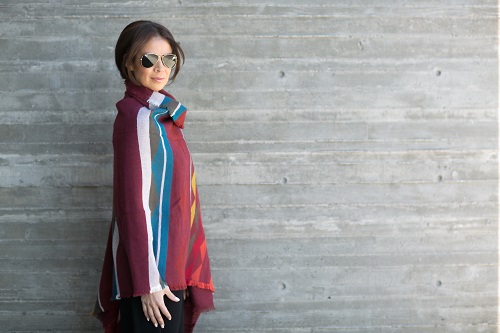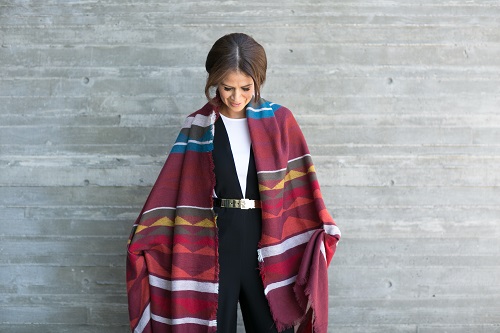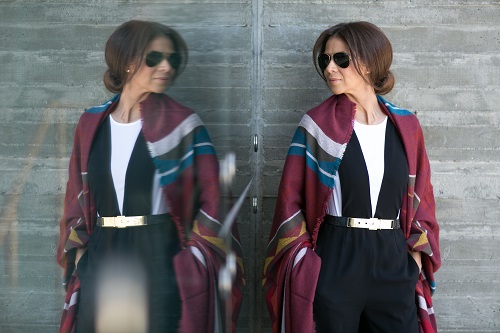 You can even throw on some jewelry like earrings and/or a bracelet. I added Marc by Marc Jacobs Hole Punch Heart Studs in gold and my "Love & Light" Mantra Band in yellow gold.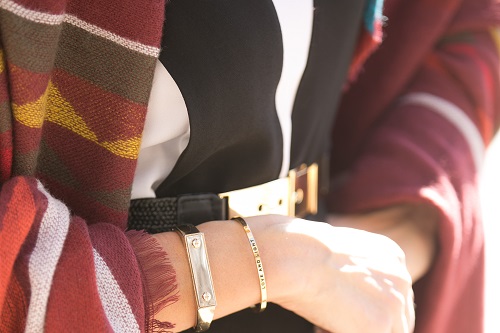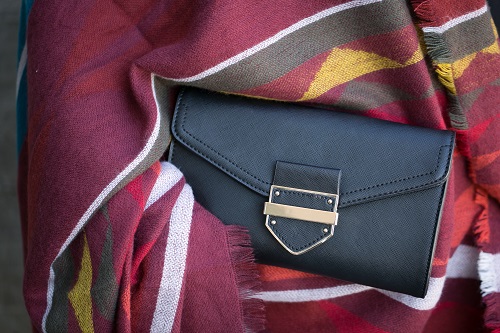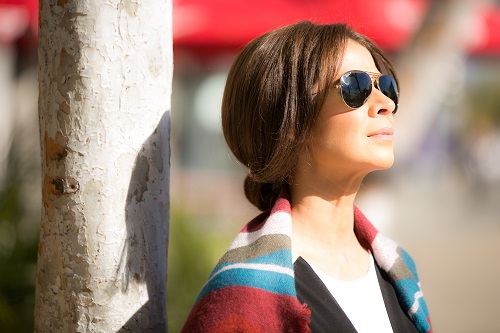 Next time you need a quick, easy & mindless outfit try on a black jumpsuit and throw a poncho over it (in any color or pattern).
How do you wear your poncho?  
 Post your comments below.
Don't forget to subscribe to my email list so that you can stay connected with me!
Mom on Duty…
Rocio
Poncho Old Navy Poncho Wrap in tan combo
Jumpsuit BCBGMAXAZRIA Galiena Color-Blocked Sleeveless Jumpsuit in black combo
Belt BCBGMAXAZRIA Elastic Waist Belt
Earrings Marc by Marc Jacobs Hole Punch Heart Studs
Bracelet Mantra Band in yellow gold
Shoes Vince Camuto Heels in black
---
Location:  Santa  Monica  Blvd
Photographer: William  Joya
IG:  @joyandlove_pix
---