Travelers' Choice® 2015 WinnerFamily l All-Inclusive
by TripAdvisor
My husband and I were looking for an all-inclusive Family Friendly Resort that was suited specifically for toddlers since we had 3 year old twins at the time. We came across BEACHES TURKS & CAICOS RESORT. I had heard of Turks & Caicos but I had no idea where it was and how expensive it was.  After some research we began to fall in love with all that it offered especially for toddlers.
TRAVEL TIME: from LA…… It took us 4 hours to get to our first stop in Charlotte. We had a 1 1/2 hr layover there which went by quickly. Then we flew straight to the Caribbean which was another 3 hours. We took US Airways which I don't recommend. They over-booked the flights and the service was awful.
I also recommend arriving after 1pm because check in time is not till 3pm. We arrived at noon and had lunch but we were waiting while they were getting our room ready. The kids were getting ancy as soon as they saw the pool.
This resort is divided into 4 villages:
The Caribbean Village
The Italian Village
The Key West Village
The French Village
Here are a few important details about each village:
The Caribbean Village: is more of a quiet spot but not too much going on here. If you're on a budget, it's the most economical. The main Kids Camp and cute outdoor playground is here. It's also steps away from the beach. The Caribbean village includes 2 pools with swim-up bars. Starting from $344 per adult/per night and $54 per child/per night.
The Italian Village: is in the middle of everything and is full of Italian flavor. It's surrounded by restaurants, boutiques, kid's waterpark and still steps away from the beach. All of these suites include a separate kids room. It includes a zero-entry pool which is great for the lil ones, it's near Pirates Island waterpark and Lazy River. Starting from $713 per adult/per night and $47 per child/per night.
The Key West Village: is NEW and known for their luxury included amenities. This village is more for a 'chic larger family' or a group of families traveling together. The Fitness Center plus the second but smaller Kids Camp is also here. There's a Nail Salon and Spa in this village. Key West suites include a kitchen. This village consist of a beachside pool, 3 swim-up bars, Beachfront Butler Villas plus Concierge Service. Starting from $473 per adult/per night and $47 per child/per night.
The French Village: has a French feel surrounded by gardens. This village is where Pirates Island and the waterpark is. The Kids Octopus Bar is located in the water park and is a swim up bar for KIDS ONLY! This village includes a big pool with a swim-up bar for adults, restaurants and outdoor cafes. There is a French Café that serves nothing but pastries and coffee. These suites include a separate sitting area. A HUGE plus is that the 'Beaches Stage' is here which is where the shows take place. The Sesame Street shows take place at 6:30pm every night are here as well as the adult shows at night around 9pm. Starting from $345 per adult/per night and $61 per child/per night.
OUR ROOM: The Italian Village – Poolside Walkout Concierge Level – ROOM 3123
 We chose the ITALIAN VILLAGE mainly because it had a poolside walkout. We didn't want the inconvenience of going back and forth to the pool especially since it was going to be our main entertainment every day.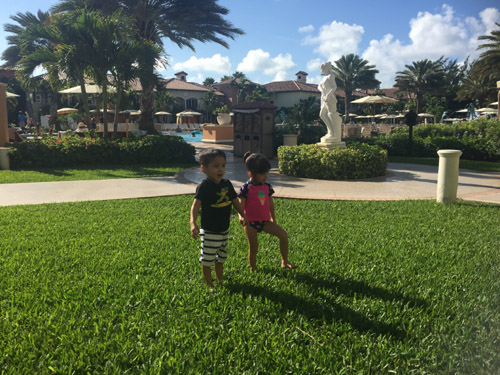 PROS: Walkout goes straight to the main pool and restaurants, Kids can run/play on the grass (sort of like a front yard), the shower is awesome, Near waterpark, Floor Level is convenient, No wet child and bags to carry upstairs, No stroller or elevator to worry about. There is free basic Wifi but it costs an extra $42 for 1 week for Extra Band Wifi which we chose, they had the Disney Channel plus Nick Jr and lastly there's a NO TIPPING POLICY.
CONS: No kitchen space (just microwave & small fridge), Could do without separate kids room (no carpet-all floor), No screen door so we got bit by a few lil bugs. BRING INSECT REPELLENT!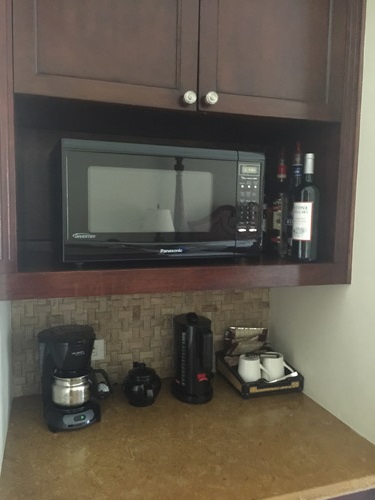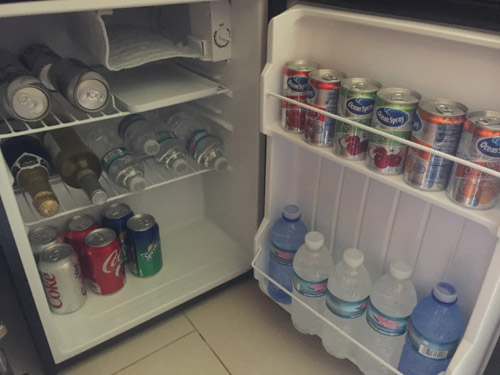 ALL-INCLUSIVE: One of the first things that caught our eye was that it was all-inclusive. Not only is it all-inclusive but there are 19 International Restaurants to choose from. Our daughter is extremely picky and we thought that this would be awesome for her and less stressful for us. You moms that have a picky eater in the family know how stressful this can be especially away from home or on vacation.
The most important thing to know about the resort being All-Inclusive is that there is NO ROOM SERVICE. You can't order from your room. If you're hungry you MUST go out and order from a restaurant or get a TO GO box and take quick snacks. I was able to eat at 11 of the restaurants. Most of the restaurants have TO GO boxes except for 'Barefoot By The Sea.' Below is a picture of the 'Barefoot By The Sea' restaurant where you eat on the beach with no shoes on.
Now having said that, not having room service isn't that bad because it forces you to be out of your room and enjoy the resort. We didn't mind it at all.
KIMONOS RESTAURANT- is the only restaurant where you need to make a reservation.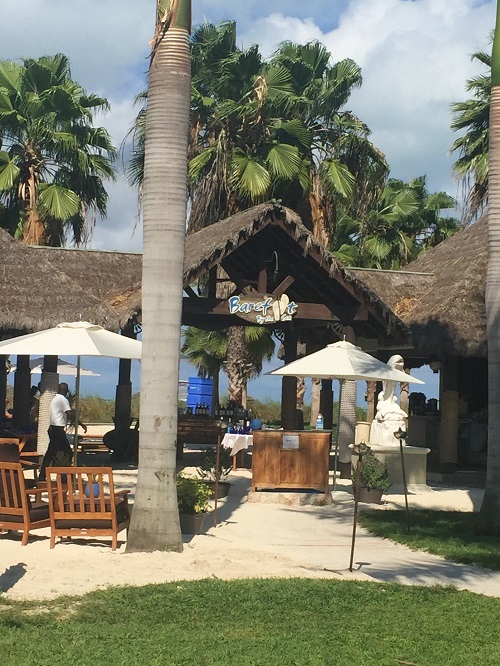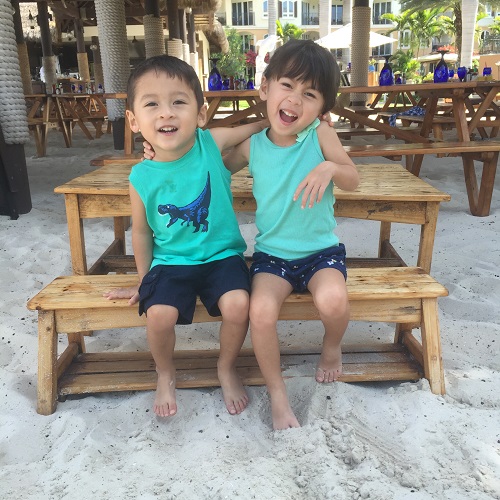 At Cricketer's Pub they even brought out games for the kids to play with while we waited. When I think Pub….I think bar but this Pub was so kid friendly & delicious! The waiters & waitresses here were excellent! Always trying their hardest to make sure everyone was happy.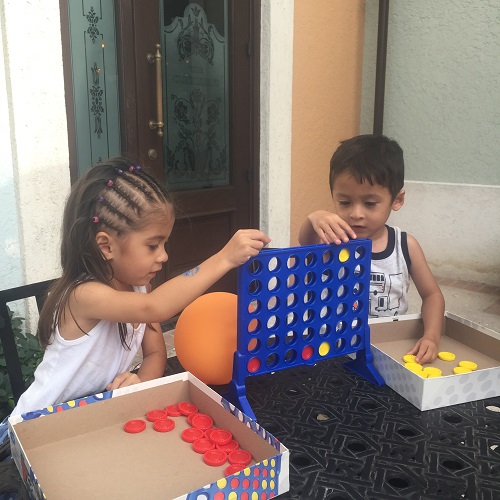 FUN ACTIVITIES TO DO WITH TODDLERS: These are the 6 activities that we did and were the most appropriate for our family with 3 year old toddlers .
1*SESAME STREET character breakfast- which was $50 for a family of four (2 adults 2 toddlers). This is extra and not part of the all-inclusive dining. We did this on the 3rd morning and we could've done without it. The banquet-like room that they have the breakfast at is small and brown. There were too many things going on and our kids were overwhelmed. They didn't even eat the breakfast nor did we. We left early. You run into all the characters throughout the resort anyways and in a more private setting. So don't be bummed if you opt out of the character breakfast.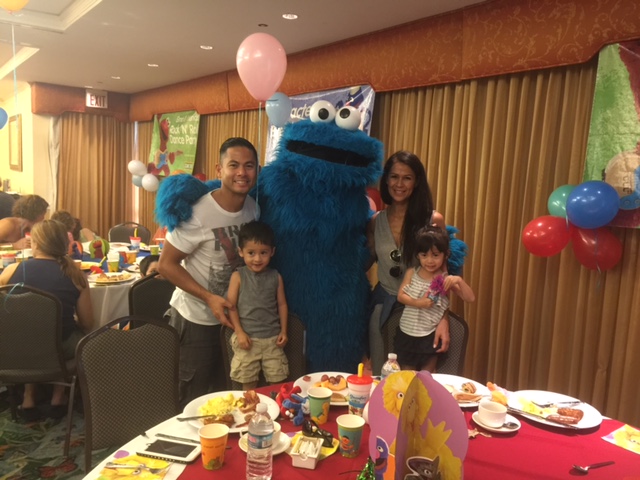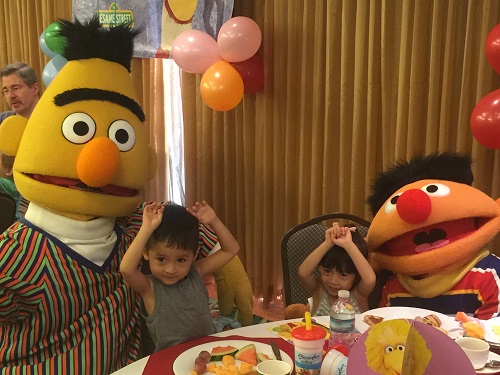 2*PIRATES ISLAND WATER PARK– includes a HUGE pirate ship, Splash Deck, Pop-up jets for the lil one (where you can take some awesome pictures), zero-entry pool and waterfall pool plus a 650 foot lazy river. It also includes a Kids Octopus Bar, which is a swim-up bar that serves ice cream, pizza or frozen snacks just for kids!! Right next to the waterpark is Bobby Dee's, a casual restaurant which has like a 50's feel to it. They serve burgers, pizza, hot dogs, ice cream and cotton candy.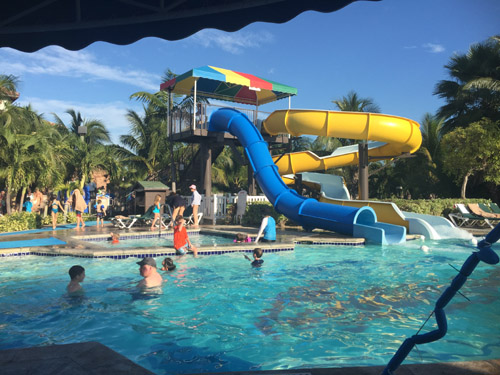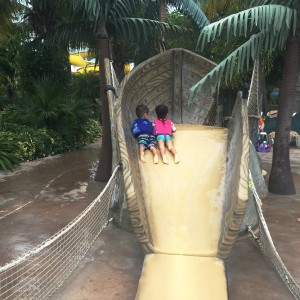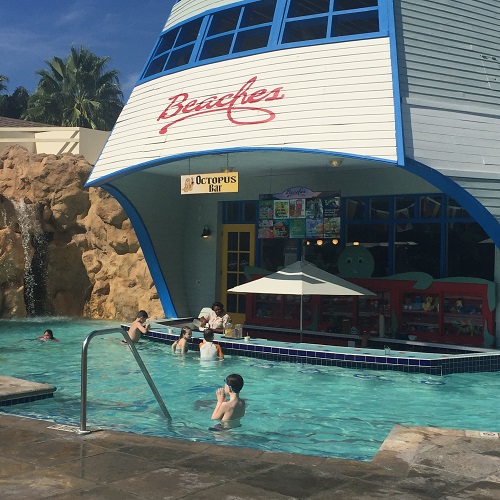 3*KIDS CAMP – Our focus was on the Toddler program which is for 3-5 year olds. YES moms! Your child must be potty trained to participate in this program. We only took our kids there one time while worked out for an hour. While it was a nice break for us I didn't feel all that comfortable because there were so many kids there. The ladies there are awesome but I wish I had known about the other quieter Kids Camp in Key West.
KIDS CAMP IS INCLUDED IN YOUR STAY. YOU DON'T HAVE TO PAY EXTRA FOR THIS SERVICE.
*You only have to pay if you want a personal nanny for your child. The certified nannies are able to play with your lil munchkin(s) in the toddler pool (1 foot deep), go shell collecting, do face painting, have costume time or even build sand castles on the beach.
(Kids Camp has age appropriate activities for everyone: INFANTS/TODDLERS/PRE-TEENS/TEENS/SPECIAL NEEDS & AFTER CAMP CARE)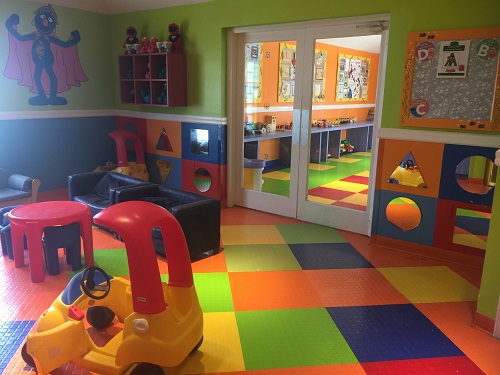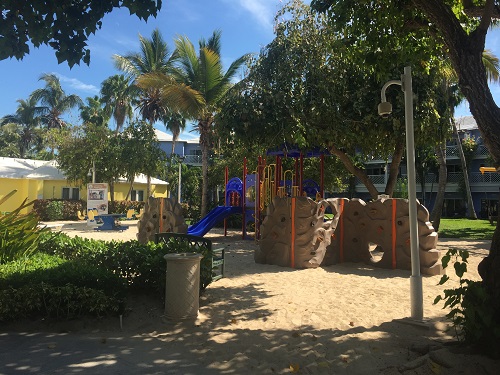 4*CHO CHOO TRAIN – If you don't have anything planned or your child is fussy take him/her on this fun train ride that takes you throughout all four villages (does not run on weekends or check schedule).
5*RED LANE SPA – mommy heaven-Nail Salon(Key West) Hair Salon(French Village) & 2 spas. I took my 3 year old daughter for a manicure/pedicure which was an awesome bonding experience for us.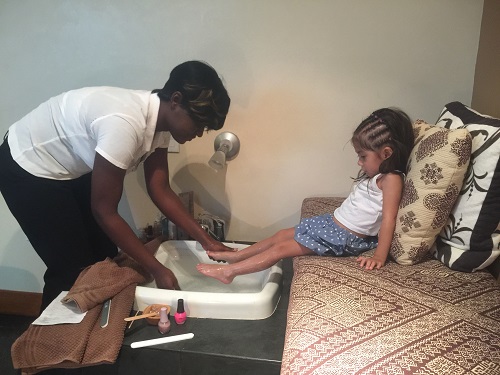 6*NIGHTLY ENTERTAINMENT – during our stay which was from Sat-Fri in January our shows included: Sesame Street stage shows, Live shows, White Theme Night for the whole family & Reggae Night. We saw 3 of the Sesame Street nightly shows and each one was different. The shows are not all the same and sometimes different characters show up. They lasted around 20 minutes. After the show was over the characters would come off stage. They would do meet & greets with the kids plus photo ops.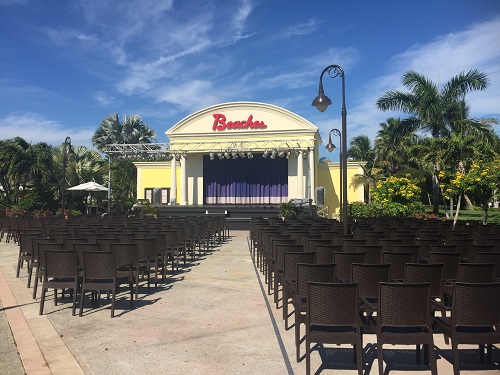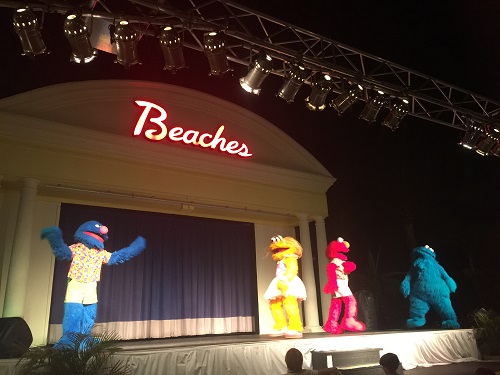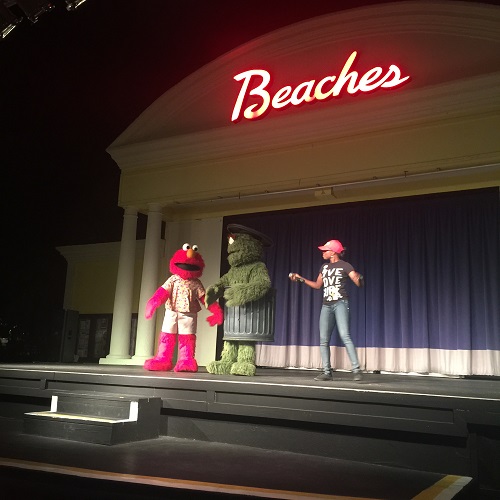 7*FAMILY PHOTOSHOOT -was on the beach & we met the photographer next to the Dive Shop. Our photographer Joseph was awesome and even barked like a dog to get my kid's attention. We FINALLY were able to get a photo of them looking & smiling at the camera. It was a miracle! I highly recommend a photo shoot!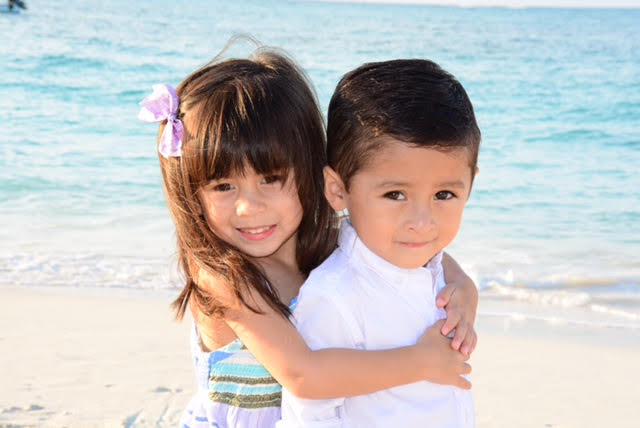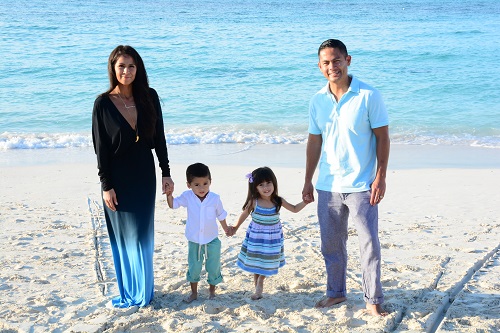 10 other awesome activities available:
Golf
Xbox 360 Game Garage
All-inclusive Watersports
Caribbean Adventure Tours
Unlimited Scuba Diving
Scratch DJ Academy
Trench Town for tweens and teens
Games & Land sports
Club Liquid
Romantic Candlelight Dinner
POOL: You can use the blow up beds for free. The pools were NOT heated but the weather was warm so the water felt good. We made use of the Italian pool the whole time. It wasn't crowded, very big, many pool floats to go around. We never had a problem finding chairs or towels. They were always available to us. There was a bar at the pool as well.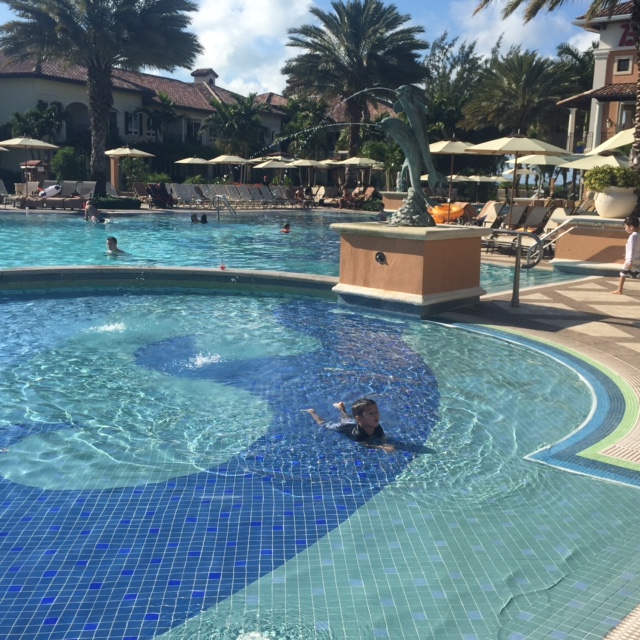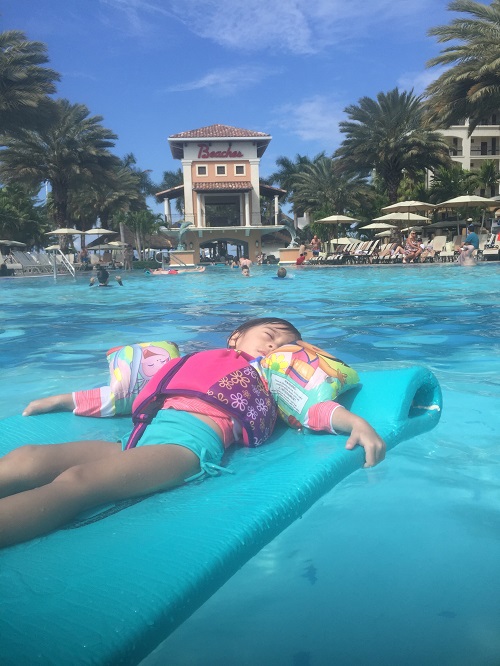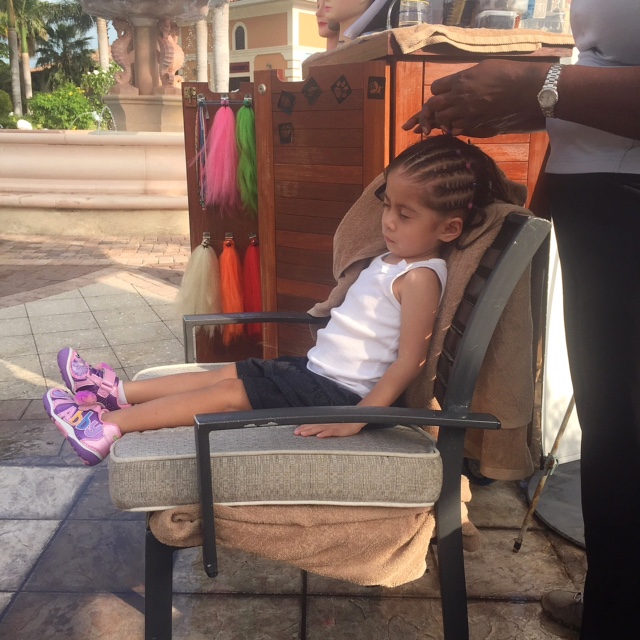 WEATHER REPORT: The first few days were absolutely Perfect! The last couple of days were a lil overcast with some wind. We stayed from Jan 24 – Jan 30.
BEACH TIP: If you want an umbrella hut or a beach bed with cover on the beach don't worry about waking up early in the morning. You can set your towels up the night before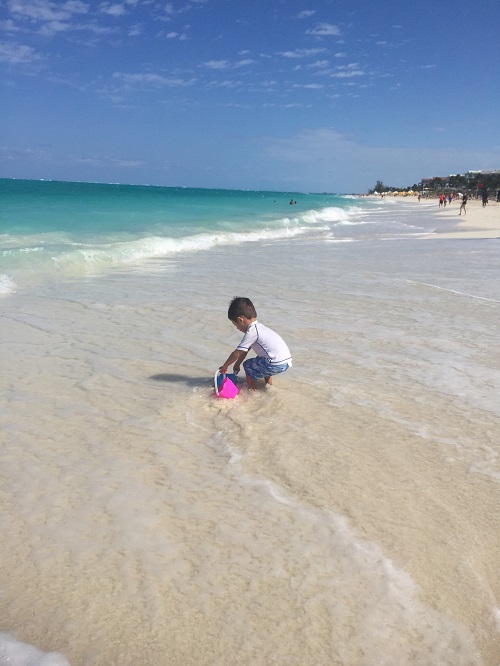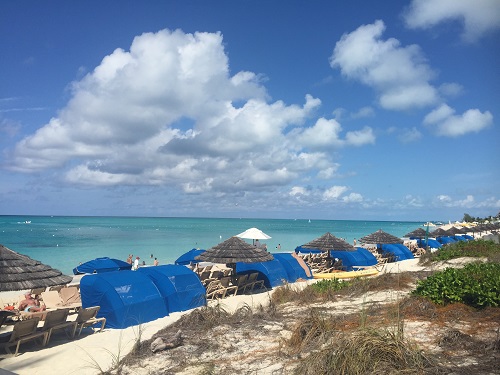 STROLLER TIP: Bring an umbrella stroller! The shore walkway is AWESOME to take long walks on or if you're trying to put your lil ones down for a nap. It's so serene!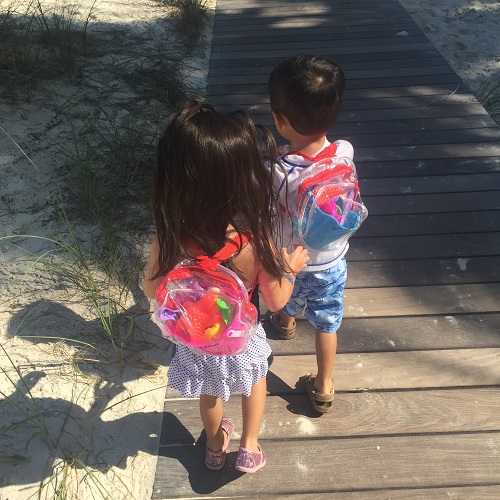 CHARACTERS: We saw at least one character a day walking around the resort. I've read some blogs that have stated that they never saw a character. Not sure why but that was definitely not the case when we stayed there.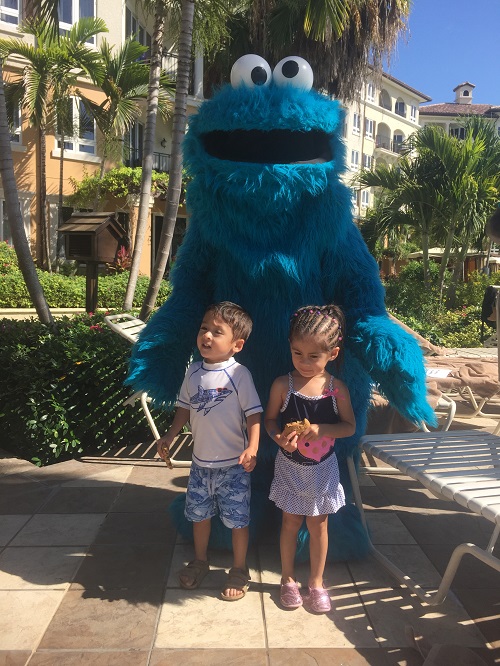 The whole RESORT was Spotless…Well maintained.
Staff & Customer Service: ABSOLUTELY AMAZING SERVICE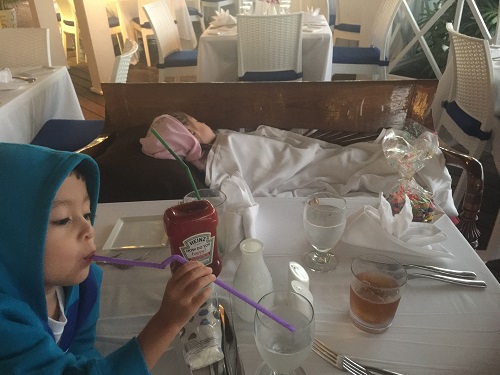 This is how great they are. At Shooner's Seafood Grill my daughter fell asleep. They took away her chair and brought her a lil wooden bench with blankets!?! Can you believe that? They wanted to make sure our whole family was comfortable. They went above & beyond to make sure we were happy and we were!
*Checkout time is 11am, take TO GO food boxes, fill them with snacks for the kids and head to Departure Lounge*
Kissing Turks & Caicos goodbye!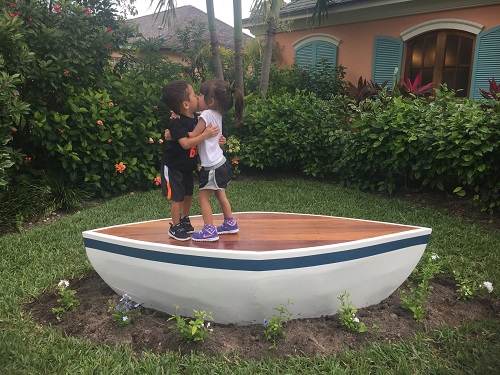 ***All information was based from January 24, 2015. Check for updated information***
---